Consider Starlight for Your End of the Year Giving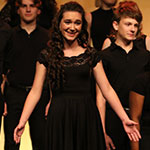 Did you know? In addition to being one of only two remaining self-producing outdoor theatres in the country, Starlight has been a 501(c)(3) nonprofit organization since 1951. Part of our mission is providing superior theatre arts education and impactful community outreach programs, and in 2019 Starlight was able to reach more than 25,000 people, including more than 7,000 youth.
Starlight ticket sales cover only a portion of the costs involved in promoting excellence in musical theatre and the performing arts at our historic venue. We rely almost entirely on charitable gifts to support our programs which foster a love of the arts and essential skills building that the performing arts are uniquely positioned to provide.
Programs that are impacted by your gift include the Blue Star Awards, Just Imagine, The Vincent Legacy Scholarship Program, Bob Rohlf Internship Program, Starlight STARS and Starlight STARS of Tomorrow, and a Community Ticket Program that provides 17,000 free tickets per year to area nonprofits.
Learn more about our impact on the community from those who have experienced it themselves:
Donations matter. No matter the size of your gift, your decision to support Starlight fulfill its mission means more people have the opportunity to experience the magic of Starlight.