Deadline Approaching for Summer Internships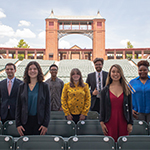 Did you know? Starlight offers paid summer internships throughout a number of departments at our nonprofit theatre. Since 1984, the Bob Rohlf Internship program has provided college students with the opportunity to learn the ins and outs of what it takes to bring live Broadway musicals, popular concerts and education programming to Kansas City audiences. Starlight's interns work alongside our professional staff and contribute directly to the success of our historic theatre under the stars.
The Starlight internship experience isn't just coffee runs. Each summer, Starlight hires more than a dozen students and challenges them with hands-on, real-world responsibilities in their respective disciplines. Starlight's interns are integral in making our theatre run smoothly each summer!
In addition to the invaluable work experience, Starlight's interns enjoy meeting members of the Starlight board of directors and executive team, from whom they receive advice and make connections with Kansas City's top leaders. They also participate in learning sessions with Starlight staff and escape the office for fun teambuilding activities a few times a season.
If you or someone you know is interested in applying, don't miss the deadline! All applications must be received by 11:59 p.m. on Tuesday, January 18, 2022. Internship positions are in accounting, community engagement, donor relations, graphic design, information systems, landscaping/grounds, multimedia, operations, public relations, sales and marketing, and technical production.
For more information or to apply, visit our internships page here.