Starlight Welcomes New VP of Community Engagement!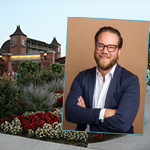 Starlight is excited to announce that Alex Jones, who has nearly 20 years of experience in the field of arts education and community engagement, has joined Starlight's team as the new Vice President of Community Engagement. Starlight leadership and board members conducted a nationwide search and received more than three hundred applications for the role. Jones was the top choice by all on the selection team and joined the staff Monday, January 25, 2021.
The theatre's reputation as a landmark venue and its rich history in the region attracted Jones to the position. He sees it as an opportunity to support the organization's longstanding commitment to serving the community and to join a passionate group of individuals who are dedicated to providing access to the arts.
"Though the past year has been the toughest that most arts organizations have seen, I have been so impressed with how Starlight found new ways to engage audiences, while also positioning itself to open the moment it is safe to do so," Jones said. "I'm looking forward to continuing to find innovative avenues to elevate and expand the organization's reach into the community."
Jones comes to Kansas City from Costa Mesa, CA, where he most recently served as the Director of Education at Sergerstrom Center for the Arts. In this role, he oversaw numerous education and engagement programs dedicated to providing equitable access to the arts, directed regional and national partnerships, oversaw a diverse roster of more than 70 artist groups serving Southern California, and programmed two international series of theatre for young audiences.
Some of Jones's top accomplishments from his professional career include leading a dedicated audience engagement team, developing a series of sensory-friendly performances, and participating in an executive program where he learned alongside many inspiring arts leaders from around the globe.
"Alex will bring his years of experience, a can-do attitude and a winning personality to the job," Rich Baker, Starlight's President & CEO said. "I am excited for the possibilities this brings as we seek to expand our Community Engagement programs, staff and impact on our community."
When he's not working, Jones is still a live-event fan! Outside of the pandemic, he is likely attending a concert or theatre experience, or exploring a museum. He enjoys spending time with his wife and two sons, and advocating for and supporting organizations that serve individuals with Down syndrome and their families. While Jones will miss some aspects of Southern California, he's excited to return to the Midwest (he spent half of his life in Nebraska, after all!).
"Everyone that I have met has been extremely generous in offering their knowledge of the area, and they all have their own Starlight stories, which is quite encouraging," Jones said. "There is palpable KC pride coming from the people here and I am looking forward to getting to know a new city."
We can't wait to show you around, Alex! Welcome to Starlight and welcome to Kansas City.
To read the entire Q&A with Alex Jones, click here.