The 2017 Concert Series Isn't Over Yet!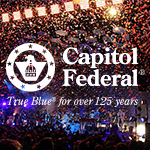 Four shows remain in the 2017 Capitol Federal Concert Series at Starlight Theatre, so there's still plenty of time and options to jam out under the stars.
Matchbox Twenty and Counting Crows
Wednesday, Sept. 27 at 6:45 p.m.
Two of music's biggest hit-makers have joined up for an epic tour. Multi-platinum-selling Matchbox Twenty comes to Starlight with Counting Crows, marking the 20th anniversary of Matchbox Twenty and the breakthrough debut album, Yourself or Someone Like You. The five-time Grammy Award-winning band has worldwide album sales of more than 30 million and multiple No. 1 singles including "Bent," "Unwell" and "If You're Gone."
Nearly as prolific, Counting Crows has sold more than 20 million albums worldwide since exploding onto the music scene in 1993 with their multi-platinum breakout album, August and Everything After. In September 2014, the band released their seventh studio album, Somewhere Under Wonderland, which debuted at No. 6 on the US Billboard 200 chart.
The xx
Tuesday, Oct. 3 at 8 p.m.
The xx is touring in support of their third studio album, I See You. Formed in London in 2005, the musical trio released their self-titled debut album in August 2009 and quickly achieved commercial and critical success. For their work, The xx received the Mercury Prize, awarded annually for the best album from the United Kingdom and Ireland. The band's sophomore album, Coexist, reached No. 5 on the Billboard Top 200 list. I See You marks a tonal shift bringing a sound that has a pure, crisp pop structure adorned by unusual crescendos.
Willie Nelson & Family: RESCHEDULED
Wednesday, Oct. 4 at 6:30 p.m.
On June 17, the Willie Nelson performance was interrupted by severe weather, but Starlight was pleased to be able to reschedule the concert to Oct. 4. A very limited number of tickets are available for purchase. With a career that spans six decades and 200-plus albums, Nelson has collected nearly every conceivable award as a musician while also amassing credentials as an author, actor and activist. During the past five years alone, the iconic Texas singer-songwriter has released 10 new albums, a book on The New York Times' Best Sellers list, headlined Farm Aid and the Luck Reunion Food and Music Festival and graced the cover of Rolling Stone.
Alison Krauss and David Gray
Sunday, Oct. 8 at 7 p.m.
Alison Krauss effortlessly bridges the gap between music genres such as pop, rock, country and classical. The 27-time Grammy Award winner has released 14 albums, sold more than 12 million records and is the most-awarded female artist in Grammy history. She recently released the critically acclaimed Windy City, which debuted at No. 1 on the Country and Bluegrass Billboard charts. Along with her multitude of Grammys, Krauss has also been honored with nine Country Music Association Awards and 14 International Bluegrass Music Association Awards.
David Gray's 25-year musical career is marked with critical praise, numerous accolades and multi-platinum sales over the course of 10 albums. The Grammy-nominated artist is known for dynamic live shows, and the energy behind Gray's concerts exemplifies his deep and heartfelt music. With outstanding albums such as Mutineers and The Guardian and hit tracks like "Shine" and "Smoke Without Water" to his credit, Gray is scheduled to release a new studio album in 2018.
Click to purchase tickets to Starlight concerts.