2019 Blue Star Awards Increase Nominations, Add Award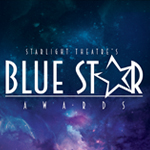 High school students and teachers across the metro have been working hard to prepare and present many outstanding musicals throughout the 2018-19 school year. This year, Starlight Theatre is excited to announce that the Blue Star Awards ceremony will recognize more student accomplishments than ever before.
In the Blue Star Awards' 17th year, the number of potential nominations per award category has been increased to eight, up from the previous six. With this change, two additional schools will have the opportunity to perform during the May 23 ceremony, and four more students will perform in the medleys for best lead actor and actress nominees.
This year also introduces the new Community Impact Award, which will recognize high school musical theatre programs that connect their musicals with its community in a meaningful fashion.
"Each year we hear about schools that link their musicals to lessons being taught in their history departments, take performers into the community to teach workshops, or hold a fundraiser for local charities connected to the theme of their show," Andy Pierce, Starlight Theatre education and outreach manager, said. "This new award category will celebrate the thoughtful work being done by departments that might not otherwise get the recognition they deserve."
To be considered, teachers submitted a brief summary of their community engagement initiative, including examples of cast and crew participation, photos from the project and supplemental materials that helped to explain the impact.
Winners of the new Community Impact Award, as well as honorees in 22 other award categories, will be announced at this year's Blue Star Awards Ceremony on Thursday night, May 23. The event, held on Starlight's main stage, is free and open to the public. Gates open at 6:30 p.m. for red-carpet arrivals, with the ceremony beginning at 7:30 p.m.