2021 Interns Complete Summer Training at Starlight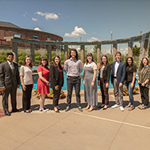 This past August, 10 college students completed summer-long training at Starlight through the Bob Rohlf Internships Program. These students participated in full-time, paid internship opportunities focused in departments including accounting, community engagement, donor relations, information systems, marketing/sales, multimedia, operations, production management and PR/communications. 
The students gained hands-on, real-world experience as they learned about roles in nonprofit arts administration and contributed to Starlight's daily success, learning alongside Starlight's full-time staff.  
"Everyone here is so helpful and creative," said Kayla Meyer, Starlight's 2021 Accounting Intern. "You really get to work with the community to create something bigger than yourself." 
The 2021 Bob Rohlf Internships Program included a variety of opportunities for students to learn about Starlight and the professional world. Throughout the program, interns assisted with Starlight's live events, completed various projects, attended informational sessions with speaker panels, participated in volunteer events and even had the chance to learn from a Starlight board member at Trozzolo Communications Group alongside Trozzolo's summer interns. 
The Bob Rohlf Internships Program is named in honor of former Starlight President/Executive Producer Bob Rohlf, also a soon-to-be Starlight Lifetime Achievement Award recipient at this year's Annual Benefit Gala. Since the inception of the program in 1984, Starlight has trained 478 interns and has received applications from more than 20 states and 8 countries. 17 former interns have served or currently serve as Starlight full-time staff. 
If you are a college student or know one who might want to join the Starlight team next summer, visit kcstarlight.com/internship in early 2022 for more details.