Starlight Is Looking for 2023 Summer Internship Applicants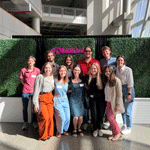 Since 1984, Starlight has provided paid summer internships in a number of departments, ranging from accounting to graphic design, landscaping/grounds, operations, and more.
Starlight's interns are an integral part of the historic theatre's summer season. They contribute daily to the success of Broadway shows, concerts, and community engagement programs. In addition to day-to-day tasks, interns participate in a number of professional development opportunities with Starlight's executive leadership team and have the opportunity to network with other interns across the city.
"My experience as an intern was amazing! The industry is interesting and had a lot of moving parts, so it was exciting to get to learn how it worked," said Meg Brekke, a 2022 summer intern. "The community at Starlight is unmatched and was a huge part of why I loved the internship so much. The other interns became some of my closest friends, and everyone in every department was so willing to help us if we had questions about anything. It provided me with great experience that prepared me to begin my first professional job."
Students interested in a Starlight internship are invited to complete an application, submit a cover letter and submit a resume (and work samples, if requested). Applications for most 2023 summer internships are due January 17, 2023. Check out available internships and apply today.
The Bob Rohlf Internships Program is named in honor of former Starlight President/Executive Producer Bob Rohlf, a Starlight Lifetime Achievement Award recipient. Since the inception of the program in 1984, Starlight has trained 482 interns and has received applications from more than 33 states and 8 countries. 17 former interns have served or currently serve as Starlight full-time staff.