70 for 70 Campaign: Leave Your Starlight Legacy!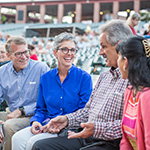 For 70 years, Starlight has been a Kansas City tradition. Since our gates first opened in 1950, millions of audience members have enjoyed a show under the stars. Much of the success of our historic venue has been thanks to the loyal support of our donors and patrons!
To ensure the road ahead is paved for success, Starlight is launching the 70 for 70 campaign as a challenge to find 70 members to join its Legacy Society by the end of 2021. Simple ways to join Starlight's Legacy Society include designating Starlight in a will or trust, making Starlight a beneficiary in retirement plans, gifting life insurance policy benefits to Starlight, or designating Starlight as a beneficiary of a Donor Advised Fund.
As Starlight responds to the ongoing challenges resulting from the pandemic, we realize how important financial sustainability and planning for the future is. Planned gifts are the pinnacle of belief in an organization and its mission. For Starlight, planned gifts ensure that Starlight is protected from unforeseen circumstances like the ones we're weathering now. Amidst the coronavirus pandemic, Starlight has been able to continue our community engagement programs, retain our staff members and, quite literally, keep the lights on!
Interested in learning more? Visit the Legacy Society page on Starlight's website, or contact Andrew Lang, Donor Relations Manager, at (816) 997-1129 or andrew.lang@kcstarlight.com.
By committing to the Legacy Society, your planned gift sends the message that you believe Starlight is important—today, and for future generations of Kansas Citians.