A Concert for Every Music Taste This July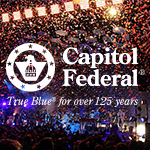 This month, Starlight continues the 2019 Capitol Federal Concert Series with a lineup of concerts that's sure to please music fans of many genres.
The Head and the Heart kick off the July concerts under the stars Saturday, July 6. An indie folk band best known for their hit "All We Ever Knew," The Head and the Heart just released their fourth full-length album, Living Mirage, earlier this spring. The band's first single from their newest album, Missed Connection, reached No. 1 on the Billboard Adult Alternative charts.
Next, Earth, Wind & Fire brings their legendary blend of funk, jazz, pop, soul and R&B to the Starlight stage Saturday, July 20. This timeless band celebrates more than five-decades of sold out concerts all around the globe with their timeless songs and commitment to spreading positivity. Their music bridges the gap between generations and nationalities and have been inducted into the Rock and Roll Hall of Fame.
The final weekend of July is jam-packed with four nights of hit shows in a row. Why Don't We opens the weekend Thursday, July 25, with a headlining tour following the release of their first full-length album last year. The five young men of this pop boy band have amassed a diehard fan base in their few years in the music industry, and show no signs of stopping their climb anytime soon.
Friday, July 26, Alice Cooper & Halestorm are prepared to shock and rock Kansas City audiences under the stars. Alice Cooper pioneered a grandly theatrical brand of hard rock with shows featuring electric chairs, guillotines, fake blood and boa constrictors. Grammy Award-winning rockers Halestorm join Cooper at Starlight following their most recent album release, Vicious.
Comedy rock duo Jack Black and Kyle Gass bring the laughs to the summer concert season with Tenacious D—Saturday, July 27. This international tour follows the release of not only the band's fourth album, Post-Apocalypto, but an animated film, which was hand-drawn and voiced by Black and Gass.
+Live+ & Bush join forces for The ALT-IMATE Tour, with a stop at Starlight Sunday, July 28. This powerhouse co-headlining show celebrates the two bands' 25th anniversary of their respective landmark albums, Throwing Copper and Sixteen Stone. Collectively, the two albums sold more than 20 million copies combined.
For tickets to all concerts in the Capitol Federal Concert Series at Starlight Theatre, visit kcstarlight.com, call 816-363-7827, or visit the box office at 4600 Starlight Road, Kansas City, Mo., 64114.