A Conversation with Honorary All-Star, Becky Blades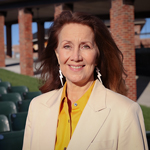 Starlight is pleased to announce that Becky Blades will serve as the Honorary All-Star for its 2022 Starry Night at Starlight community fundraiser. We recently sat down with Becky to find out more about her experiences with Starlight throughout the years, and why she is excited to support this year's Starry Night at Starlight event. Read more below!
Tell us about your involvement at Starlight throughout the years.
Growing up in Kansas City in the 60s and 70s, Starlight Theatre was a magical, mysterious place. On trips to the Kansas City Zoo, our car full of six kids annoyed our parents with questions about the Starlight signs and the storybook towers. But in the early 70s, Starlight was in a belt tightening mode, doing only adult variety shows, so our parents convinced us that the best shows for kids were at the zoo's ape house.
I saw my first Starlight show at age 21 while working as an intern at the theatre in 1980. (I loved telling people that I had seen 50+ shows and had never paid for a ticket – that Starlight PAID ME).
What a summer that was! I've never worked so hard for so long for so little – or learned so much. A mid-town kid who had never seen a musical, now I watched from backstage or front-row loge seats seeing star-studded performances of ten back-to-back national road shows. I saw the inner workings of professional theatre, from prop placement to technical rehearsals, of shows like Bubbling Brown Sugar with Cab Calloway, Anything Goes with Sid Caesar and Ginger Rogers, L'il Abner with Joe Namath, to name a few!
My job was to coordinate media appearances for the leading performers, so my days were star-studded and full of surprises. Ask me about the time Sid Caesar made me cry when I got lost driving him from downtown to Swope Park in the days before GPS. Or the time Rosemary Clooney wanted to set me up with her nephew, a journalism student my age at Northern Kentucky University. Yep, I turned down a date with George Clooney.
As nourishing as that summer was for me personally, it proved to be a difficult, dark turning point for Starlight. A devastating heat wave kept people in their air-conditioned movie theaters and made the summer a financial disaster. On the brink of bankruptcy, Starlight spent the winter months closing down operations as we knew them. Starlight produced no shows the summer of 1981, as the board and civic leaders retooled and reimagined the future. 1980 was the last season of ten full-scale Starlight summer shows.
Over the next two decades, I enjoyed watching Starlight create a new vitality and take its rightful place as an anchor jewel in the crown of Kansas City's exploding arts scene.
In 2000, while serving on The Greater Kansas City Chamber of Commerce Board of Directors, I took an early tour of the soon-to-open $10 million Jeannette and Jerome Cohen Community Stage. Despite some nostalgia for the old facilities I remembered, I was overcome by the new glow of our civic treasure.
I called my husband on the spot and told him I was buying season tickets – in the new Producer's Circle section, if I could snag them. I wanted our young family to be a part of the new generation of Starlight.
Since 2000, we have rarely missed a Starlight Broadway performance. From those open-air seats, our daughters were bitten by the musical theatre bug, and both became theatre kids, performing and writing in high school and college. Now on opposite coasts, still working in entertainment, they both eagerly fly home for at least one Starlight show a year.
In 2018, I was thrilled to be invited to serve the Starlight Board of Directors. I was more thrilled, once on the Board, to get a view of management strength from the inside and learn just how bright the future looks for Starlight.
What makes you most excited to serve as an Honorary All-Star for this year's Starry Night at Starlight event on Saturday, June 11?
I had a BLAST at last year's first Starry Night at Starlight event! It was like a garden party meets glam tailgate, with a VIP intermission.
Pairing it with Starlight's production of Hairspray is a genius move. Hairspray is a classic that gets better every time Starlight does it. I'm hoping to see some '60s themed dressing.
And of course, raising money for the Bob Rohlf Internships program makes us all feel like Tracy Turnblad dancing on The Corny Collins Show. You can't stop that beat!
Why do you think support for Starlight's Bob Rohlf Internships program is so important?
Internships are always good. Good internships are life changing.
Starlight's Bob Rohlf Internship program is top-notch. It's designed and executed to enrich each intern, not just get work from them. Starlight takes each intern experience seriously, and it shows.
The care that goes into recruiting, screening, and selecting Starlight interns, plus the training they get, prepares Starlight interns to become best-of-the-best job candidates. I have first-hand testimony: my public relations firm interviewed several former Starlight interns over the years and was lucky enough to hire two of them. Our company benefitted while we had them and were proud to watch their careers take off.
Investing in strong internship programs is one the best contributions we can make to the arts and to our city. It's the best way to identify talent, assure diversity and accelerate the growth of young people…of our future.