A Conversation with Legacy Society Members, Nancy Whitworth and Doug Ballou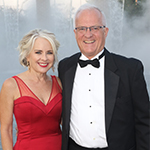 Where did you first get your passion for live entertainment?
We both have always loved live entertainment, but our passion was doubly ignited when two of our daughters showed an interest, one on the performing side and the other in stage management.  We were blessed to have organizations like Starlight where they could learn and grow with other kids as well as seasoned professional mentors.
Why did you want to include Starlight in your estate plans?
We want our kids and grandkids, and their kids, to enjoy Starlight for many generations.  We've seen all that Starlight does for the community through outreach, education, community tickets, and more.  Starlight's community engagement allows people to be exposed to live entertainment that might not otherwise have that opportunity.  It's so important for the culture in Kansas City, and that's something we want to support!
Describe the process of listing Starlight in your estate plans.
It was so easy to list Starlight in our estate plan.  We requested a form, filled it out, signed and sent it back to Starlight.  That's it!  It's that easy, and it's a great feeling to know we're making a difference.
Should others consider making a planned gift to Starlight?
We highly recommend that others consider making a planned gift to Starlight.  The Starlight team is so grateful for any amount, small or large, and it ensures others will continue to enjoy the performing arts for many generations.