A Conversation with Legacy Society Members, Troy and Wendy Burgess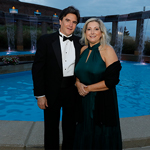 Where did you first get your passion for Starlight?
We have a long history with Starlight Theatre. One of our fondest memories is of our first concert together - James Taylor in the 90s! Since then, we have attended numerous concerts, events, and Broadway shows; Starlight has always been part of our Kansas City history!
When our two children had the opportunity to participate in the Blue Star Awards program, our appreciation of Starlight rose to a new level. Watching them perform on the Starlight stage made us forever grateful for Starlight's commitment to providing empowering experiences to Kansas City's kids to make sure their voices are heard. Not only is Starlight a great entertainment venue, it is a community asset that gives so much back to Kansas City's future generations.
What does Legacy Giving mean to you?
Legacy giving means planning for the future, and anticipating how our gift will play a role in that future. To be able to help sustain an organization that you love, knowing that the benefits you have enjoyed in your lifetime will continue to impact future generations. To ensure not only your own family's enjoyment of Starlight, but to also secure programming that will continue to benefit our community. To walk onto the beautiful Starlight grounds and feel a sense of permanence. We love knowing that our legacy gift will contribute to all of these things that mean so much to us and to Kansas City!
Describe the process of listing Starlight in your estate plans.
It was such an easy process! There are many options to make a planned gift to ensure a sustained future for Starlight.  One way is to include Starlight as a beneficiary of your will or trust. Another is to make Starlight a beneficiary of an IRA or 401(k) plan, which is how we chose to make our legacy gift. It was a simple matter of contacting our custodian and updating the beneficiary form. You can designate a set dollar amount, or designate a percentage of the account to go to Starlight. We opted to designate a percentage of the account to Starlight, so our gift will grow as our plan assets grow.
Should others consider making a planned gift to Starlight?
Absolutely! Being a part of Starlight's legacy society is a source of tremendous pride for us! We are truly participating in the future of this Kansas City icon. We love knowing that future generations, our kids, our grandkids, our neighbors, our friends, and people all through this city will have a chance to experience Starlight's stellar entertainment and participate in educational programs that make the arts accessible to all Kansas Citians.