An Evening with Starlight: The Sky's the Limit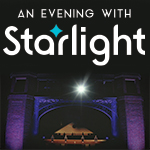 Starlight recently made the difficult decision to move away from a traditional in-person benefit gala for 2020. But the show must go on...so we're bringing it to you!
This year, we're excited to announce an online event, FREE and open the public, featuring performances and appearances by Tony Award-winning Broadway stars, an original Hamilton cast member, REO Speedwagon's Kevin Cronin, The Vi Tran Band, a number of local artists, and a few extra special surprises! Please join us for:
An Evening with Starlight: The Sky's the Limit
An online benefit for Starlight Theatre
Saturday, October 10 at 7:00 pm
Through the making of this event, Starlight is proud to support the artists, technicians, and other industry professionals whose livelihoods have been impacted by COVID-19. Catch a glimpse of these talented performers in this behind-the-scenes sneak peek:
RSVP to receive special announcements, event reminders, and streaming links. Attendance is free, but donations are encouraged.