Blue Star Award Winners Announced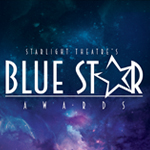 On Thursday, May 23, Starlight announced the 17th Annual Blue Star Awards winners in a Tony Awards®-inspired ceremony under the stars, recognizing achievement and excellence in high school musical theatre. Metro students, parents and instructors arrived dressed to the nines to walk the red carpet before taking their seats for the main event, where Kansas City's arts and corporate leaders bestowed awards in 23 performance and technical categories. Throughout the evening, the audience enjoyed performances by the nominees for Outstanding Overall Production and medleys by the nominees for Outstanding Actor and Actress in a Lead Role.
This year, nearly 5,000 students and teachers from 48 metro schools worked hard to cultivate exceptional productions for the 2018-19 Blue Star Awards program. Earlier this month, Starlight leaders, staff and board members personally delivered the much-anticipated 176 nominations to this year's participating high schools. The May 23 ceremony was the program's culminating event.
The evening's top honor, "Outstanding Overall Production," was awarded to Raymore-Peculiar High School for its production of The Robber Bridegroom.
From Blue Springs High School, Sam Aubuchon took home the award for "Outstanding Actor in a Lead Role" for his portrayal of Terry in Side Show. Janie Carr of Shawnee Mission East High School was honored with the "Outstanding Actress in a Lead Role" award for her role as Ariel in Disney's The Little Mermaid. Later this month, Aubuchon and Carr will travel to New York City to represent Kansas City and participate in the National High School Musical Theatre Awards, also known as the Jimmy Awards. Starlight applauds Southwest Airlines for their generous sponsorship of the National High School Musical Theatre Awards. Southwest's support gives Aubuchon and Carr the incredible opportunity to learn, grow and explore opportunities as aspiring Broadway performers.
A final highlight of the annual Blue Star Awards Ceremony is the awarding of Rising Star Scholarships to two high school seniors. The $2,500 college scholarships are presented to one male and one female senior who have contributed the most to their high school theatre departments and demonstrated exceptional theatrical achievement. This year's scholarship recipients were Tess Prusa of Notre Dame de Sion High School and Thadeus Acha of Liberty North High School.
Click here for a full list of 2019 Blue Star Award winners. Follow us on Facebook, Twitter and Instagram for the latest updates on the Blue Star Awards @kcstarlight.