Blue Star Award Winners Participate in The 2022 Jimmy Awards in NYC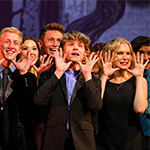 Starlight's own Blue Star Award winners, Maddox Bane and Georgia Barge, made their Broadway debut at the Minskoff Theatre stage on Monday, June 27, in the 2022 Jimmy Awards. Bane and Barge won the 2021-22 Blue Star Awards for Outstanding Actor in a Lead Role and Outstanding Actress in a Lead Role, respectively, earning them the opportunity to travel to New York City to compete in this year's National High School Musical Theatre Awards (a.k.a. the Jimmy Awards). Travel for the two students was sponsored by Southwest Airlines. 
The students' week in New York gave our Blue Star Award winners once-in-a-lifetime opportunities to work with Broadway industry professionals, including award-winning actresses and actors, casting experts, and TV producers who provided coaching and feedback to the students. It also included networking opportunities with other student nominees, dinner at Sardi's, and a Broadway show.
Following a performance of Moulin Rouge, students attended a talkback with performers, which included Kaitlin Mesh (2007 Blue Star Award winner for Outstanding Actress in a Lead Role). The week culminated with the Jimmy Awards, a live show in which winners are determined. Jimmy Awards finalists and alumni often go on to pursue careers in musical theatre. 
Starlight is proud to partner with The Broadway League Foundation to provide Kansas City students the opportunity to participate in this remarkable opportunity. This year, a group of supportive Starlight Board members also made the trip to New York City to attend the ceremony and cheer on Kansas City's nominees. 
"After three years of being unable to produce an in-person ceremony, returning to the stage created a Jimmy Awards environment that was electric," Alex Jones, V.P. of Community Engagement, said. "The sold-out crowd represented supporters from 46 cities around the country, and there was an incredible amount of energy being shared between the audience and the talented young artists on stage. Thousands were also viewing a live stream of the performances from home." 
Nicholas Barrón from San Antonio, Texas, won the award for Best Performance by an Actor. Kendall Becerra from San Diego, California, won Best Performance by an Actress. Starlight would like to congratulate the winners and all the participants in this year's Jimmy Awards!  
High schools interested in learning more about the Blue Star Awards are encouraged to contact education@kcstarlight.com.  
The Blue Star Awards are generously supported by Blue Cross and Blue Shield of Kansas City and Southwest Airlines.