Blue Star Awards ceremony, The Vanishing Half, Oslo and STEPS on Netflix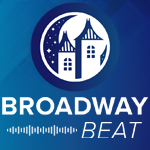 On this week's episode, Starlight invites you to the 2021 Blue Star Awards ceremony, the best-selling novel The Vanishing Half and Tony Award-winning play Oslo both head to HBO, and STEPS, a new musical animated comedy goes to Netflix.
Blue Star Awards Ceremony
And the winner is! Join us here at Starlight for the 19th Annual Blue Star Awards ceremony on Thursday, May 20, where students from area high-schools will be recognized for achievement and excellence in musical theatre. This year more than 90 students were nominated among seven categories ranging from areas of performance, technical achievement and theatre program support. Tickets to this event are free, but reservations are required. R-S-V-P for the Blue Star Awards ceremony here.
'The Vanishing Half': Aziza Barnes & Jeremy O. Harris Board HBO Series As Writers
Britt Bennett's "The Vanishing Half" is being adapted for TV! Playwrights Jeremy Harris, who is a 2020 Tony nominee, and Aziza Barnes will write the new series coming to HBO. The two will also executive produce the drama alongside Bennett, Issa Rae and Academy Awards producer Stephanie Ah-lain. "The Vanishing Half" was published in 2020 and became a best-selling novel about identical twins who leave their southern Black community at the age of sixteen. Ten years later and far from the close-knit sisters they once were, the two are now separated by miles and lies and completely different, yet their fates remain intertwined. A release date for the new series has not been set.
Netflix And Amy Poehler's Paper Kite Team On New Animated Feature 'Steps'
"STEPS," a new musical animated comedy, is headed to Netflix. Produced by Amy Poehler's Paper Kite Productions and written by Riki Lindhome, "STEPS" is a spin on the classic Cinderella story – this time with a focus on the stepsisters instead of Cinderella who are overlooked for marriage by the Prince. The two will embark on an epic journey navigating the pressures of their kingdom when they soon realize that their own perfect fairytales might be different from what they originally thought. Lindhome and Kate Micucci, also known as Garfunkel and Oates, will create the film's music. The film is currently in production.
First Look at Oslo! See Andrew Scott & Ruth Wilson in the HBO Film of the Tony-Winning Play
The Tony Award winning play Oslo is coming to HBO Max! Oslo will star Ruth Wilson as Mona Juul, a Norwegian foreign minister, and Andrew Scott as Terry Rode-Larsen, a Norwegian sociologist and Mona's husband. Oslo tells the story of the couple who find themselves in the middle of negotiations for the 1993 Oslo Peace Accords, a pivotal agreement between the Government of Israel and the Palestine Liberation Organization. Playwright J.T. Rogers wrote and executive produced the movie with Tony winner Bartlett Shur as director. Oslo premiered Off Broadway in 2016 and transferred to Broadway the following year, winning the Tony Award for Best Play that season. Oslo will premiere on HBO Max on May 29.