Capitol Federal Concert Series Adds Journey, Matchbox 20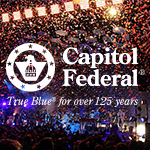 The number of events in Starlight Theatre's 2017 concert lineup has climbed to 19 with the announcement that Journey with special guest Asia will rock the Starlight stage on Saturday, July 22. Also recently confirmed is the Sept. 27 performance of Matchbox Twenty and Counting Crows.
This year's Capitol Federal Concert Series kicks off April 19 when A Perfect Circle brings its alt-rock sound to Kansas City and a nearly sold-out house at Starlight. The band is touring for the first time in six years and has also returned to the studio to work on its first album since 2004's eMOTIVE.
Journey fans are cheering because their favorite rock band is returning to Starlight after last lighting up the stage with the Steve Miller Band in July 2014. Journey, with 80 million albums sold worldwide, 19 Top-40 singles and 25 gold, platinum and multi-platinum albums, added a long-overdue honor to its list of credits on April 7 – induction into the Rock and Roll Hall of Fame!
Since 2007, when Arnel Pineda joined Journey as lead singer, the band has released two albums, embarked on seven major tours, and performed on four continents for more than 5 million fans. Joining Journey at Starlight on July 22 is English progressive rock band Asia, best known for their 1982 self-titled debut album that yielded Top 40 hits "Heat of the Moment" and "Only Time Will Tell."
Meanwhile, fans of Matchbox Twenty and Counting Crows are marking their calendars for Wednesday night, Sept. 27. The duo of multi-platinum-selling bands are joining forces on A Brief History of Everything Tour 2017.
This year celebrates the 20th anniversary of Matchbox Twenty and their breakthrough debut album, Yourself or Someone Like You, which is certified 12x platinum and has sold 15 million copies worldwide. Counting Crows exploded onto the American music scene a few years earlier, with their 1993 multi-platinum debut album, August and Everything After.
Tickets for all of the concerts in Starlight's 2017 lineup are on sale now:
A Perfect Circle – Wednesday, April 19
Pat Benatar & Neil Giraldo and Rick Springfield – Friday, May 5
The 1975 – Tuesday, May 9
Soundgarden with The Dillinger Escape Plan – Sunday, May 14
MUSE with Thirty Seconds to Mars – Monday, June 12
John Legend with Gallant – Tuesday, June 13
Willie Nelson & Family – Saturday, June 17
Chicago & The Doobie Brothers – Tuesday, June 20
Train with Natasha Bedingfield – Monday, July 3
Steve Miller Band with special guest Peter Frampton – Wednesday, July 19
Jim Gaffigan – July 20
Steve Martin & Martin Short – Friday, July 21
Journey with special guest Asia – Saturday, July 22
Nickelback with Daughtry and Shaman's Harvest – Sunday, July 23
alt-J – Thursday, Aug. 3
Young The Giant – Saturday, Aug. 5
Foreigner & Cheap Trick – Tuesday, Aug. 15
Idina Menzel – Wednesday, Aug. 16
Matchbox Twenty & Counting Crows – Wednesday, Sept. 27
Click here to purchase concert tickets.