Catch a concert this month!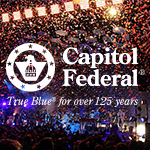 Rock and Roll Hall of Fame rock band Steely Dan hits the stage with The Doobie Brothers on their Living Dangerously Tour Monday, June 18, at Starlight Theatre. Dan Steely, considered one of the 100 greatest artists of all time by VH1, has sold more than 40 million albums worldwide. Hit songs include "Reelin' in the Years," "Rikki Don't Lose That Number," "F.M.," "Peg," "Hey Nineteen," "Deacon Blues" and "Babylon Sisters." They are joined by Grammy-award winning band The Doobie Brothers, whose accomplishments include five Top-10 singles, 16 Top-40 hits, as well as three multi-platinum, seven platinum and 14 gold albums.
Lucinda Williams, Steve Earle and Dwight Yoakam, three esteemed artists who have earned a combined 49 Grammy Award nominations, will bring their LSD Tour to Starlight Theatre Thursday, June 21. Folk singer Lucinda Williams is best known for songs such as "Drunken Angel", "World Without Tears", "Copenhagen" and "Changed The Locks." Steve Earle, acclaimed singer-songwriter, has released 16 albums. His songs have also been recorded by such music legends as Johnny Cash, Emmylou Harris, Carl Perkins, Vince Gill and more. Dwight Yoakam has sold more than 25 million albums worldwide. Twelve of his albums have gone gold, while nine achieved platinum or multi-platinum status, including five that topped Billboard's Country Albums chart.
Two of America's most successful and critically acclaimed rock bands, Chicago and REO Speedwagon, bring their co-headline North American summer tour to Starlight Theatre Wednesday, June 27. Rock and Roll Hall of Famer Chicago was the first American rock band to chart Top 40 albums in six consecutive decades and will perform their iconic album Chicago II along with their greatest hits. REO Speedwagon's explosive 1980 album, Hi Infidelity, spent 15 weeks atop the Billboard charts and went on to earn the RIAA's coveted 10x Diamond Award for surpassing U.S. sales of 10 million units. Fan-favorite hits include "In Your Letter," "Can't Fight This Feeling," "Time for Me to Fly," "Keep on Loving You" and more.
Tickets are available online at kcstarlight.com/concert, by calling 816-363-STAR (7827) or at the Starlight box office at 4600 Starlight Road, Kansas City, Mo. 64132.