Vincent Legacy Scholarship
Since 2006, Starlight has proudly awarded Vincent Legacy Scholarships to middle school students throughout metropolitan Kansas City. Established with a generous contribution from longtime Starlight supporters Greg and Rebecca Reid, the scholarships provide BIPOC (Black, Indigenous, and People of Color) youth with funds to pursue professional training and experience the life-expanding possibilities of the performing arts.
To qualify, students in grades six, seven and eight must display talent and passion for the performing arts, have a strong interest in community service, and audition for the selection committee at Starlight.
Each $2,500 Vincent Legacy Scholarship is administered by the Starlight Community Engagement Department, and funds are applied to the scholarship recipients' performing arts training during their middle and high school years.
The 2023 Vincent Legacy Scholarship application period is now closed.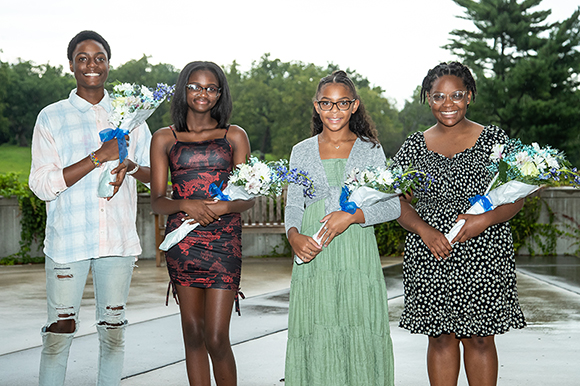 Dontez Martin
Dontez is entering eighth grade at Carl. B. Bruce Middle School. Dontez fell in love with the performing arts after participating in a play in 4th grade. In addition to performing, he has a passion for art and design. When doing costume and fashion design, Dontez especially enjoys exploring different time periods.
---
Imani Johnson
Imani is a student at Lincoln Middle School. Imani is very excited about expanding her acting skills.  Outside of her interests in performance, Imani is also dedicated to giving back to her community. In 2020 she started her own non-profit, "Heal, Help, Bless," which supported individuals who lost their jobs during the pandemic.
---
Abby Williams
Abby is an eighth grader at Indian Trail Middle School. She loves cheer and acrobatics. She is planning to use her scholarship to continue training in dance, tumbling, and acrobatics. When she is not dancing, Abby is an honor student who also participates in a variety of sports and student leadership teams.
---
Veronica Barriere
Veronica just completed her eighth-grade year at Belton Middle School. Her interests span acting, singing, and dance. She has attended the Alvin Ailey School of Performing Arts Summer Institute, and at school, she's a member of the National Junior Honor Society.
---
Denali Hunter (not pictured)
Denali completed the seventh grade at Osage Trail Middle School. She enjoys musical theatre, where she is able to combine her loves of acting, singing, and dance. She is interest in using her funds to receive training in on-camera acting. Outside of performing, Denali also enjoys drawing.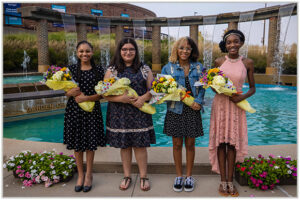 Noa Henderson
Noa is an eighth grader from Lee's Summit, Mo., who has a passion for singing and has performance experience at her school, which led her to discover a love of music. She would like to learn how to play the guitar and piano, and hopes to eventually use those skills to create and share music.
---

Savannah Jordan
Savannah attends Raymore-Peculiar High School, where she is involved in theatre, forensics and choir. On top of that, she maintains a 4.0 GPA. She is looking forward to using her scholarship to gain new skills in the performing arts industry. In her application, Savannah noted that she dreams of being on stage as a professional or helping kids like herself obtain their dreams in the performing arts.
---

Samyra Regalado
Samyra is a student at Sumner Academy of Arts and Science and is excited to explore all areas of the performing arts. She plans to use her funds to take vocal lessons, dance and acting classes and had the opportunity to perform in a middle school theater production, which helped her discover her love of musicals. Samyra hopes to make it to New York City to see a Broadway show.
---

Chamberlain Webster
Chamberlain is an eighth grader at Académie Lafayette and loves acting and singing. This past summer, she had the opportunity to play Dorothy in a summer production of The Wiz Jr. with The Black Repertory Theatre of Kansas City. Chamberlain is also interested in making a difference in her community, with an eye on a future in politics.