First Concerts Announced for 2017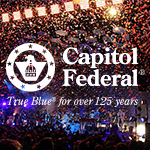 The first concerts announced for the 2017 Capitol Federal Concert Series at Starlight Theatre will have rock 'n' roll fans applauding and looking forward to warm nights under the stars.
A Perfect Circle
Wednesday, April 19 – Tickets on sale Jan. 13 at noon
This alternative rock band, formed in 1999 by vocalist Maynard James Keenan (Tool/Puscifer) and guitarist Billy Howerdel (Ashes Divide), embarks on its first tour in six years. News of the tour coincides with A Perfect Circle's return to the studio to work on their first new album since 2004's eMOTIVe.
Chicago & The Doobie Brothers
Tuesday, June 20 – Tickets on sale now
Two of America's most successful and critically acclaimed rock bands will co-headline a Northern American tour this summer. Chicago and The Doobie Brothers, who have sold more than 150 million records combined, will share the stage in 30+ cities. Celebrating their 50th anniversary as a band, Chicago was inducted into the Rock and Roll Hall of Fame last year. On Jan. 27, a remastered version of the classic Chicago II album – Chicago II: Steven Wilson Remix – will go on sale to the public. Four-time Grammy Award winners The Doobie Brothers will complement Chicago with their roots-based, harmony-laden rock sound.
Foreigner & Cheap Trick with Jason Bonham's Led Zeppelin Experience
Tuesday, August 15 – Tickets on sale Jan. 13 at 10 a.m.
Universally hailed as one of the most popular rock bands in the world, Foreigner returns to the Starlight stage for the first time since 2014. With 10 multi-platinum albums, 16 Top 30 hits and album sales of 75 million, Foreigner has captivated audiences with classic power ballads since 1976. Joining Foreigner on tour is Cheap Trick, rock's power-pop originator, which last spring was inducted into the Rock and Roll Hall of Fame and released their 17th album, Bang, Zoom, Crazy…Hello.
More concert artists and dates will be announced soon. Click for information and to buy tickets online or call 816.363.7827.