Get Ready to Rock with These Concerts at Starlight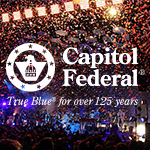 It's a month of throwbacks at Starlight, with three '90s American rock bands playing under the stars this June as part of the 2019 Capitol Federal Concert Series.
On Tuesday, June 18, progressive rockers Coheed & Cambria take the stage.  Formed in 1995, all but one of the band's recordings has been conceptually based on Sanchez's sci-fi storyline, "The Armory Wars." Now, after the release of their latest album, Vaxis – Act I: The Unheavenly Creatures, Coheed & Cambria hit the road with heavy metal band Mastadon for a national tour.
Next, Train & Goo Goo Dolls join forces and roll across America together – including a stop at Starlight Friday, June 21. Train first gained mainstream success with their debut album in 1998 and have been topping the charts ever since. Their song "Hey Soul Sister" was the biggest-selling single of 2010 and earned them a Grammy the following year. Joining them at Starlight are the Goo Goo Dolls, who found commercial success with their 1998 singles "Iris" and "Slide." They have performed in front of millions of fans around the world and have received four Grammy nominations.
Sunday, June 23, Third Eye Blind and Jimmy Eat World play under the stars as part of their Summer Gods Tour 2019. Both formed in 1993, Third Eye Blind and Jimmy Eat World have a unique sound that brought each of them mainstream success. Third Eye Blind's most recent studio album, Dopamine, was released in 2015 while Jimmy Eat World celebrated their 25th year in 2018 with the release of Integrity Blues.
For a full list of concerts in the 2019 Capitol Federal Concert Series, visit kcstarlight.com/concerts. Purchase tickets online, by calling 816-363-7827 or by visiting the box office at 4600 Starlight Road, Kansas City, Mo., 64132.
For more information or to purchase VIP tickets, contact Jeff Miller at jeff.miller@kcstarlight.com. VIP tickets include early entry, a private pre-show lounge and bar, and private bathrooms.