High School Musicals Take Center Stage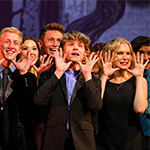 For thousands of high school students across the metro area, the annual musical is a highlight of the school year. Starlight's Blue Star Awards celebrates the achievements of these students both on the stage and behind the scenes. 
The Blue Star Awards program is one of the largest and most admired high school musical theatre awards programs in the nation. All high schools in metropolitan Kansas City and selected outlying communities are invited to participate. Each year the program serves over 4,000 area students who contribute either on the stage or behind the scenes to their schools' musical theatre productions. 
Participating schools receive a professional review of their musical production, which includes feedback and insights for teachers and students to review. 
"What I love about the Blue Star Awards is that it allows my students and our program to strive for excellence; not that we're competing against any other high schools, but that we're competing against ourselves, and that we're trying to get better each and every time," said Edward Shafer, Blue Star Awards Coordinating Teacher for Olathe East High School. 
Each year, the program culminates with the red-carpet Blue Star Awards Ceremony on the Starlight stage. Two winners are sent to New York City to compete in the National High School Musical Theatre Awards™ (The Jimmy Awards) and have an opportunity to learn from Broadway professionals. 
Andy Pierce, Community Engagement Manager, has been involved with the Blue Star Awards for 11 years and served as an adjudicator prior to his official role with Starlight. "It's exciting to launch the 21st season of this wonderful program. Students, both off and on stage, put so much dedication and creativity into their shows. With 55 participating schools from Kansas and Missouri, everyone has amazing musicals happening in their area. From classic titles to new musicals, the schools offer something for everyone. If you're a fan of musical theatre, make plans to go experience the next generation of artists," said Andy. 
The high school musical season has begun! View the list of local productions to help support the dramatic arts in our community.