How to Make Your 2023 Event Unique and Stress Free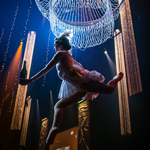 If you're planning a special event this year, Starlight can help make it both unique and stress-free. Learn more from Starlight's Private Events Coordinator, Anna Gicinto, about what makes this the perfect location for a private event.
She mentioned a few features that make Starlight stand out from other area venues.
Multiple Rental Spaces
A major factor that makes Starlight stand out from other area venues is the number of event spaces. Throughout the campus, there are nine spaces—including both indoor and outdoor options—that can accommodate groups of 20 to 500 people, making it ideal for corporate events, holiday parties, and wedding receptions. Starlight has many rental spaces that include patio access for indoor/outdoor entertaining, perfect for cocktail parties, company events, and even small performances.
"One of the most unique options is to host your event on the stage at Starlight," said Gicinto. "The climate-controlled, fully enclosed stage is the ideal setting for a formal dinner or reception. Plus, who wouldn't want to feel like the star of their own wedding or party?"
Quick Response Time
With a schedule of rotating performances including elaborate Broadway sets and large concert setups, Starlight's team is able to configure spaces in a short period of time and make adjustments quickly.
"Starlight is one of the most unique venues in Kansas City," said Gicinto. "We have the ability to transform our spaces from Broadway shows to concerts to private event spaces in no time. We host a variety of different private events on a regular basis ranging from smaller corporate events, birthday parties, and retreats, to larger weddings and fundraising galas with more than 400 guests."
In-House Catering

One of the most stressful parts of planning an event can be finding a caterer, but Starlight makes it easy with an in-house executive chef and catering team.
Chef Bear and the team from Legends hospitality love to create bountiful spreads sure to delight all of your guests. Options range from boxed lunches and snack breaks, to appetizer, lunch, and dinner buffets. No matter how simple or complex the recipe is, the main focus is always flavor.
There are a couple more reasons we think make Starlight stand out as an event venue in Kansas City.
On-Site Event Coordinator
One of the best parts of hosting a private event at Starlight is getting to work with Anna! Her job is to help ensure everything goes smoothly before and during the event and she takes it seriously.
"I love knowing that we did all we could to go above and beyond to exceed a client's expectations," she said. "At the end of each event, I love seeing the smile on the client's face, knowing that they had a great experience."
Location, Location, Location
We may be biased, but we think Starlight is one of the prettiest spots to have an event in Kansas City. As guests enter Swope Park, they have a scenic view even before they get a glimpse of the iconic towers of the stage house.
Pro Tips
We asked Anna if she had any tips for those looking for an event venue. Her response was to look for a rental location that is large enough to accommodate your guest count, doesn't exceed your price range, fits your desired look and feel, and contains space(s) that are versatile and can be set up exactly how you want.
So, if you're looking for the perfect place to host your next event, visit the Rentals section of our website. Anna will be happy to help you!