In Conversation with Andrew Lang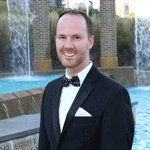 Join us in congratulating Andrew Lang, Starlight's new Director of Philanthropy! We sat down with Andrew to discuss his history with Starlight and plans for his new role.
Tell us about your history with Starlight.
When I was a Junior in High School in Columbia, my sister, Cortney, had just moved to Kansas City and told me about this beautiful outdoor theatre in Kansas City. It sounded incredible, and I couldn't wait to see it for myself! I made the two-hour drive with a friend to see West Side Story, pulled up to the parking lot, got out of the car, and just stared in awe for several moments. I couldn't believe a place like this existed! The show was wonderful, the grounds were breathtaking, every person I encountered was incredibly kind, and I knew right then and there that this place would forever be a special place for me.
Once I moved to Kansas City after graduating college, I knew I wanted to help make the magic of Starlight possible. For two summers, I volunteered as Guest Assist: greeting patrons, escorting patrons in wheelchairs, and (the most fun of all!) driving the courtesy shuttle. In 2014, a job opened up on Starlight's development team, and I was hired on as the Development Coordinator. Within weeks, I had worked my first Gala and met many of Starlight's committed donors that loved Starlight just as much as I did!
Now, nearly a decade later, I am honored to step into the role of Starlight's Director of Philanthropy. It has been a pleasure to grow along with this organization and witness how much our Philanthropy department has grown over the past decade. I can't wait to see what we can accomplish next!
What do you hope to accomplish in your new position?
From distributing nearly 13,000 free Broadway show tickets every single season to annually contributing back an estimated $61.2 million into our local economy, I have seen firsthand how much of a difference Starlight makes in our community. I want to continue to educate Kansas Citians on Starlight's nonprofit status and shed a light on all of the great work that we are doing to help our community thrive.
While I'm tremendously proud of how much the Philanthropy department has grown over the years, I know there is still so much more that we can do! I would love to see a day where philanthropic dollars not only cover all programmatic expenses but provide our teams the space to explore and deepen their impact. Continued advocacy and support from our donors and patrons will allow us to achieve our shared goal of seeing a bigger and better Starlight!
Anything else you'd like to share with Starlight's donors?
Making the choice to be a donor is an important one. It shows that you are committed to ensuring that Kansas City's most unique outdoor venue will be around for future generations to experience the arts. YOU play such an important role in making the magic of Starlight possible! Every gift, large and small, makes a difference in what we are able to provide for the Kansas City community.
Remember that support for Starlight can come in gifts of time, talent and treasure! Want to take your support for Starlight one step further? Consider volunteering, buying tickets for a friend, or sharing a post on social media that you find meaningful. It takes all of us advocating for Starlight to make the biggest impact possible!
I look forward to working alongside you on this journey toward creating the best possible version of Starlight. Together, we can help Starlight reach new heights. Thank you for your support!