Introducing the Popes of Sister Act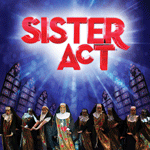 REJOICE with us, Kansas City! We're thrilled to announce that six of your favorite Kansas City personalities will be joining us to play the role of the Pope in Sister Act at Starlight Theatre, August 16-21. Catch the following local stars each night of the show:
Quinton Lucas
Mayor of Kansas City
Tuesday, August 16
Bryan Busby
First Alert Chief Meteorologist for KMBC News 9
Wednesday, August 17
Pat McGonigle
Anchor at Fox4
Thursday, August 18
Hartzell Gray
Host for Alt 96.5 and KCUR 89.3
Friday, August 19
Bill Hurrelbrink
Meteorologist and Anchor at KCTV5
Saturday, August 20
Dana Wright
Host on KMBZ-FM
Sunday, August 21
Sister Act is the feel-good musical comedy based on the 1992 film, featuring music from the Tony and eight-time Oscar winner Alan Menken. The Sister Act company is led by Tamyra Gray, famous from season one of "American Idol," as Deloris Van Cartier, Anne Tolpegin as Mother Superior, and E. Clayton Cornelious as Sweaty Eddie Souther. Sister Act features the iconic soundtrack that you know and love, including the hits "Take Me to Heaven," "Fabulous, Baby!" and "Raise Your Voice." Tickets to Sister Act are on sale now.