Just Announced—Starlight's 2020 AdventHealth Broadway Series!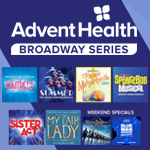 Starlight is pleased to announce a fantastic line up of Broadway crowd-pleasers, iconic jukebox musicals and hit stage favorites coming to our historic theatre under the stars as part of the 2020 AdventHealth Broadway Series. With a selection of fantastic productions hitting the road this season, Starlight booked a summer to encompass six week-long Broadway musicals in addition to two weekend specials—giving patrons the ability to add or swap and customize their season to be truly theirs.
This premier line up of national Broadway tours kicks off in June with Waitress, the heart-warming show with music by Sara Bareilles. The jukebox musical favorites Summer: The Donna Summer Musical and Escape to Margaritaville will have audiences dancing through July. The SpongeBob Musical takes patrons into August and includes hits by an iconic roster of Grammy Award winning musicians. Sister Act is sure to please with its original music by Tony and Oscar winner Alan Menken, and the beautiful Lincoln Center Theater production of My Fair Lady rounds out the season next September.
Season ticket holders may renew their six-show season now and add one or both weekend specials, Riverdance 25th Anniversary Show and Blue Man Group, at the time of renewal. Swaps into one of the weekend specials will be available starting March 23, 2020. New season ticket holders may also secure their tickets for the 2020 season now and will be seated after renewals are complete. Individual tickets will go on sale at a later date.
Season ticket holders get the best price on tickets, plus exclusive benefits like free paved parking, a "weatherproof" season, dining discounts and much more.
Renewals, advance orders or gift certificates for new season tickets are available online at kcstarlight.com, by calling 816-363-STAR (7827) or at the Starlight box office at 4600 Starlight Road, Kansas City, Mo. 64132. All Broadway performances begin at 8 p.m. For more information, including show content advisories, please visit kcstarlight.com.
Discount prices for groups of 10 or more are available by contacting Starlight's group sales department at 816-997-1137 or groups@kcstarlight.com. Please note that kcstarlight.com is the only official ticket source for all shows in the 2020 AdventHealth Broadway Series. If you purchase tickets from another website or ticket broker, we cannot guarantee those tickets are legitimate.