KCPS Students Attend Van Gogh Alive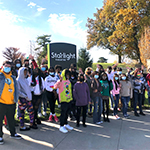 Thanks to a partnership between Kansas City Public Schools, Starlight, and the Muriel McBrien Kauffman Foundation, more than 800 students from Kansas City Public Schools have had the opportunity to experience Van Gogh Alive at Starlight Theatre since mid-November.
"The exhibit at Starlight is a brand-new way to experience the works of one of the most well-known artists of all time," Alex Jones, Starlight's Vice President of Community Engagement, said. "This partnership takes students out of the classroom and into an immersive learning environment where they can explore the world of Vincent van Gogh."
Starlight's Philanthropy team applied for the $25,000 grant with the Muriel McBrien Kauffman Foundation, and Kansas City Public Schools covered the cost of transportation, which allowed more students to attend the exhibit. Starlight's Community Tickets Program, one of the historic theatre's oldest initiatives, provided the framework for making Van Gogh Alive more accessible for audiences, including Kansas City Public Schools students. Since its inception in 1950, Starlight's Community Tickets Program has provided thousands of tickets per year to groups who would otherwise miss out on enjoying the arts.
Van Gogh Alive is on display at Starlight through January 14. Starlight is the only official ticketing provider of Van Gogh Alive and tickets may only be purchased by calling the Starlight Ticket Office at (816) 363-7827, or by visiting kcstarlight.com.
Discount prices for groups of 10 or more are available by contacting group sales department at (816) 997-1137 or groups@kcstarlight.com.