LEGENDary Acts Line Up for June Concert Series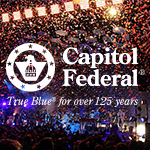 Summer nights at Starlight Theatre are filled with stellar summer concerts. The 2017 Capitol Federal Concert Series continues with four June shows offering something for everyone:
Monday, June 12 – MUSE with special guests Thirty Seconds to Mars (and PVRIS)
Tuesday, June 13 – John Legend with Gallant
Saturday, June 17 – Willie Nelson & Family with Dwight Yoakam and Robert Earl Keen
Tuesday, June 20 – Chicago & The Doobie Brothers
MUSE
June 12 at 7 p.m.
Grammy Award-winning English rock band MUSE will tour 15 cities in North America this summer in support of their newest album, Drones. Released in June 2015, the album debuted at No. 1 in 21 countries and spawned the No. 1 hit single "Dead Inside." The album and hit single earned MUSE their second Best Rock Album Grammy in February 2016.
Special guest Thirty Seconds to Mars is currently working on a highly anticipated fifth studio album to be released later this year. Among the group's honors are a dozen MTV Awards, a Billboard Music award and the Guinness World Record for the Longest-Running Concert Tour in history for their two-year, 309-show tour (December 2009-11).
John Legend
June 13 at 7 p.m.
John Legend is touring following the release of his fifth studio album, Darkness and Light. USA Today called the album Legend's "most personal record," and The New York Times praised "Love Me Now" as "a seize-the-moment song." Legend, a 10-time Grammy Award winner will light up the night in 27 North American cities during his Darkness and Light tour.
When his first album, Get Lifted, debuted at No. 7 on the U.S. Billboard 200, Legend became an instant international success. Over the past 13 years, he has released five studio albums, earned countless accolades, including multiple Grammy Awards and a Golden Globe Award for Best Original Song in Selma. His last project included performing the title track duet on the 2017 film Beauty and the Beast with Ariana Grande.
Willie Nelson & Family
June 17 at 6:30 p.m.
Over the past six decades, Willie Nelson has entertained audiences around the globe with 200-plus albums. He has earned every conceivable award as a musician and has become a respectable author, actor and activist. During the past five years, Nelson has released 10 new albums, landed a book on The New York Times' Best Sellers list, headlined festivals, graced the cover of Rolling Stone, and earned his fifth-degree black belt in Gong Kwon Yu Sul.
Dwight Yoakam and Robert Earl Keen join Willie Nelson as special guests. Yoakam in 2016 celebrated both the 30th anniversary of his debut album, Guitars, Cadillacs, Etc., Etc., and the September release of his newest and first-ever bluegrass album, Swimmin' Pools, Movie Stars. Houston native Robert Earl Keen has recorded 18 full-length albums since his debut in 1984.
Chicago & The Doobie Brothers
June 20 at 7:30 p.m.
Having sold more than 150 million records combined, Chicago and The Doobie Brothers are two of America's most successful and critically acclaimed rock bands. Celebrating its 50th anniversary in 2017, Chicago was honored to be inducted into the Rock and Roll Hall of Fame last year. The first American rock band to chart Top 40 albums in six decades, Chicago's accomplishments include 21 Top 10 singles, five consecutive No. 1 albums, 11 No. 1 singles and five Gold singles. Their 2014 album Chicago Transit Authority was inducted into the Grammy Hall of Fame.
Joining Chicago on tour are The Doobie Brothers who have created roots-based, harmony-laden, guitar-driven rock and roll for more than four decades. With four Grammy Awards and more than 48 million records sold worldwide, their latest album Southbound features recordings of the band's biggest hits with country music's biggest stars.