New Season Brings a New Way to Access Tickets
Starlight has launched a new mobile ticket delivery platform for all shows and concerts. Now, ticket buyers have access to a mobile ticket wallet, which can be easily accessed from any internet enabled device.
Through this platform, Starlight is able to instantly update tickets when buyers make an exchange or purchase extra seats. Tickets can be shared easily with a friend and can be accessed from any device, eliminating the need to keep track of paper tickets all season long.
Access Your Account
Accessing tickets through Starlight's new mobile platform is simple, reliable, and secure. To access your ticket wallet, start by navigating to wallet.kcstarlight.com from any device and follow one of these two options.
For existing or previous ticket holders, enter the same email address and password you would use to login to the Starlight website.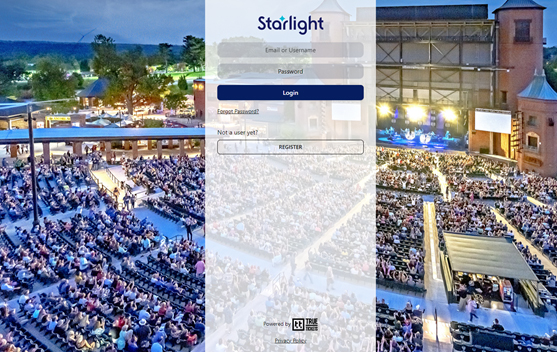 If you have not previously logged into our website, click "register", enter the account information fields, click "register" once again and you are ready to access your tickets.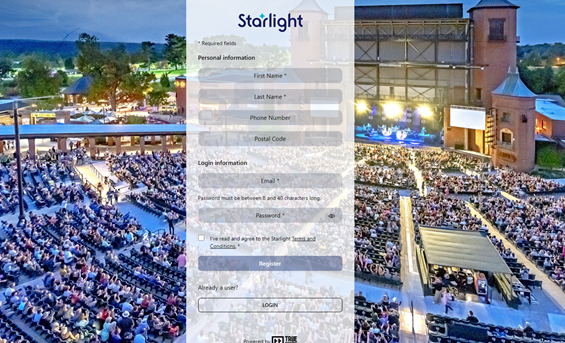 Locate Your Tickets
Once logged in, you will be able to see any upcoming shows which you have purchased, or that have been shared with you by another party.

Click on a show name to see individual tickets.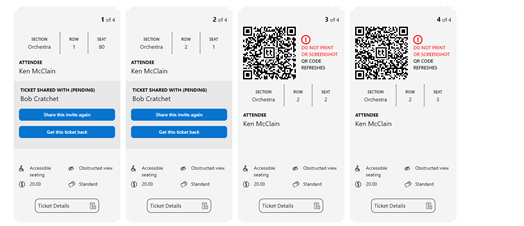 Share Your Tickets
You can now easily share seats with others as well. With the tickets to a show pulled up, click the blue "SHARE TICKETS" button at the top of the screen.
Enter the first and last name of the person you are sharing with and select the seat or seats to be shared. If only sending part of your order, be sure to check the seat number so you send the location you intended. Click the "Share with Guest" button and select the recipient from your contacts. The text message or email will automatically populate with everything your guest needs to access the tickets. If your contacts do not populate automatically, you can also use the "copy link" function and paste into a text message or email.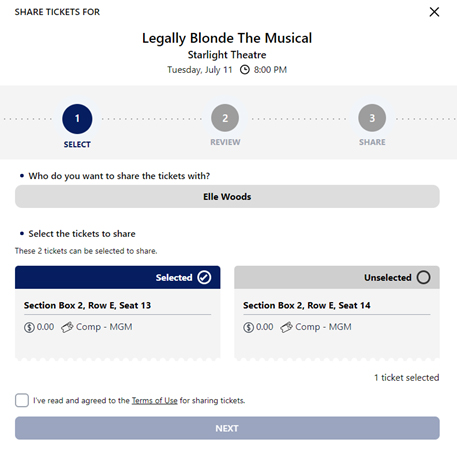 Accept Shared Tickets
To accept shared tickets, the recipient will click the link they received and log in or follow the same registration process.
Scan Your Tickets
When you arrive at Starlight for your show, you can access the tickets again as you approach the gate. Follow the same process by logging into your account at wallet.kcstarlight.com and select that day's show.
The secure QR codes regenerate every 30 seconds, so do not print a screen shot or attempt to save the image to your phone as these codes will no longer scan at entry.
Thank you for your support of Starlight Theatre, we hope you enjoy this new service. For any additional questions, feel free to contact us through help@kcstarlight.com or by calling (816) 363-7827.