Nominate Starlight Theatre for The Pitch's Best of KC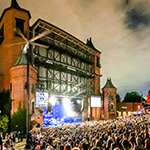 Do you love watching your favorite shows under the stars at our historic venue? We need your help nominating Starlight Theatre for The Pitch's 2022 Best of KC awards! With your support, we won the categories of Best Live Music Venue, Best Live Theatre, and Best Outdoor Venue in 2021.  
In 2022, we hope to take home the prize of Best Cultural Event for Starlight's Blue Star Awards. The Blue Star Awards are among the most admired high school award programs in the nation, with 49 schools in the Kansas City metropolitan area participating. More than 3,700 high schoolers took part this year, more than $8,000 in scholarships were awarded, and winners were announced in 24 categories.  
We would also appreciate your nomination for the Best Fundraising Event for Starlight's Annual Benefit Gala. The gala allows Starlight to support more than 30,000 residents through community engagement programs, bring world-class Broadway productions and concerts to more than 300,000 patrons, and sustain our beautiful and historic landmark for years to come. With live performances from local artists, impactful stories and testimonies, and a night celebrating Starlight, this is an exceptional evening for Kansas Citians.  
Starlight Theatre continues to improve our historic venue and make it more accessible to our whole community. Each year, we partner with the Audio-Reader Network to allow patrons who are blind or have low vision to participate in visual experiences more fully and independently. Interpreters join every Sunday night viewing of Broadway performances and interpret the show for deaf and hard of hearing patrons. Assistive listening devices are also available at every Broadway performance. With our focus on accessibility, Starlight would appreciate your vote for Best Outdoor Venue. 
Every year, Starlight Theatre is proud to offer a line-up of concerts and Broadway shows that bring a wide variety of entertainment to Kansas City. Providing our first full season since the beginning of the pandemic, please vote for Starlight Theatre for Best Live Music Venue (over 1,000) and Best Live Theater. 
Last but not least, it would not be Starlight if you could not gaze up at the stars at our venue. Please vote for Starlight Theatre for Best Place for Stargazing.  
Thank you for supporting Starlight in presenting and producing Broadway musicals, concerts, and indoor shows, in addition to offering extensive community engagement programming that continues to enrich Kansas City for years to come.