Q&A with Alex Jones – Starlight's New VP of Community Engagement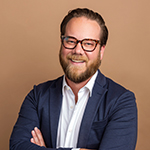 Q&A with Alex Jones – Starlight's New VP of Community Engagement
Starlight is thrilled to welcome its new Vice President of Community Engagement to the team. With nearly 20 years of experience in the field, Jones brings his expertise of arts education and community engagement all the way from California. Learn more about Starlight's newest team member and what he's looking forward to most about this next chapter.
What attracted you to this position at Starlight?
There were so many things, but perhaps a simple way to articulate my attraction to the role would be: the place, the programs, and the people. It is an opportunity to work at a landmark venue that has an extremely rich history in this region. It is an opportunity to support the organization's longstanding commitment to serving the community through its impressive programs. And it is an opportunity to join a passionate group of individuals who are dedicated to providing access to the arts, including a motivated staff and senior leadership team, a supportive board of directors, and a skilled community engagement team.
What do you look forward to most about joining the Starlight team?
I am grateful to be joining Starlight at this time in the theatre's history. Though the past year has been the toughest that most arts organizations have seen, I have been so impressed with how Starlight found new ways to engage audiences, while also positioning itself to open the moment it is safe to do so. I'm looking forward to continuing to find innovative avenues to elevate and expand the organization's reach into the community.
What do you consider your top three accomplishments professionally and/or personally?
Three that come to mind from my most recent role are:
1) Leading a team dedicated to audience engagement, where we found new and exciting ways for patrons to connect with each other, connect with the organization, and participate in meaningful arts experiences.
2) Developing an ongoing series of sensory-friendly performances, where we partnered with local and national accessibility organizations to create a safe and relaxed environment for individuals with sensory sensitivity to experience live theatre with their families.
3) Participating in an executive program in arts and culture strategy through the University of Pennsylvania and National Arts Strategies, where I was thankful to receive truly valuable training in leadership and management, but also got to learn alongside many inspiring arts leaders from around the globe.
As Starlight's new VP of Community Engagement, what advice do you have for young performers?
First, keep engaging in arts experiences. The more you do it, the more you'll discover, and the better you'll get at it. The artistic process has moments that are discouraging, but all it takes to get through those moments is to just keep at it. Second, learn as much as you can about every aspect of theatre (or whatever other disciplines you are pursuing). You will be a much stronger performer and more valuable cast member if you understand the roles of technicians, engineers, front of house teams, administrators, etc. Third, be generous to the people you meet and work with along the way. These worlds are relatively small and everyone you meet could potentially be your pathway to another opportunity. Additionally, these folks could end up being some of your closest personal relationships. Finally, think about how to take the skills that you have learned in the arts into other areas of your life and future jobs. Individuals with arts in their background make for fantastic employees (and human beings) because they are creative, they are collaborative, they are problem solvers, and they are empathetic. Employers are desperate for those skill sets, so don't be afraid to lean into your inner artist no matter where you find yourself.
When you're not working, what are you up to?
Well, I am of course an arts person, so if I'm out at an event, it's likely a concert, or a theatre experience, or a museum. I have spent half my life in California and half my life in Nebraska, so I'm a diehard fan of the Lakers and the Cornhuskers (one of those fandoms is much more rewarding than the other). I'm a father of two young boys, so honestly, most of my free time now is spent with them and their activities, which I adore. My wife and I also spend a fair amount of time advocating for and supporting organizations that serve individuals with Down syndrome and their families; that is a community that is central to our own family.
What will you miss most about California?
The people. Southern California is such an incredible mix of diverse backgrounds, cultures, races, and stories. Sure, the weather and scenery are amazing, and there are endless things to do, but I know what I'll miss most is the people.
What are you looking forward to most about Kansas City?
The community. I am thankful that Kansas City's reputation of having genuinely nice/helpful people has proven to be true so far. Everyone that I have met has been extremely generous in offering their knowledge of the area, and they all have their own Starlight stories, which is quite encouraging. There is palpable KC pride coming from the people here and I am looking forward to getting to know a new city.
What are your favorites?
- Broadway show? Recent: The Band's Visit, Hadestown, Come from Away. All Time: Sweeney Todd, Rent, Les Misérables
- Music? Recent: Solange, Sufjan Stevens, Frank Ocean. All Time: Prince, Paul McCartney, Lauryn Hill
- Food? I am certainly going to miss that In-N-Out Burger
- TV Show? Recent: Atlanta, Fleabag, Abstract (Netflix). All Time: Mad Men, The Sopranos, Arrested Development
- Theatre experience? I have a history of programming theatre for young audiences, and there are so many beautiful and powerful performances that I have seen in that realm over the years. Some of my favorite companies like Theatre Lovett, Experiential Theater Company, and Cahoots NI are creating magic for individuals of all ages.
Anything else you'd like to add?
Just that I am thrilled and humbled to be joining the Starlight team, and that I'm eager to get plugged into the community. I know there are people here who are hoping to further develop their relationship with Starlight or perhaps start a new one, so if that's you, I hope you will get in touch.
Welcome to Kansas City, Alex! We're thrilled to have you join the Starlight team.