Q&A with Barb Schulte – Starlight's Recently Retired VP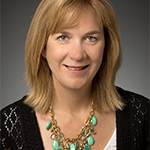 Starlight would like to congratulate Barb Schulte, Vice President of Community Engagement, on her recent retirement. After 35 years in the workforce (14 of which were spent at Starlight) Schulte begins another chapter spending time with her husband and grandchildren, traveling (post pandemic), volunteering and perhaps even returning to the classroom. Before she left, she reminisced on her time at Starlight.
What was your best memory working at Starlight?
This is a tough one because there are so many happy memories during my tenure at Starlight, but I finally figured out what really stands out. James Taylor concerts – 2008, 2012 and 2014 – under the stars were the absolute best! I don't know whether it was just a happy coincidence or fate, but all three of sweet James' concerts were on perfect Starlight nights. Light breeze, unseasonably comfortable summer temperatures and the perfect setting for his mellow sound – at least that's how it's all etched in my Starlight memories!
Why do you think Starlight is special to Kansas City?
It looks like a castle. It brings people from all walks of life together for a night of live entertainment – and escape from their real-world challenges. It gives families a safe, welcoming environment to introduce even their youngest children to the magic of theatre and the arts. It's where Kansas City celebrated its first 100 years of existence in 1950, and our city and the Starlight organization have kept it thriving ever since!
What will you miss most about working at Starlight?
I will miss my Starlight family – my coworkers, our students, their parents, our volunteers and so many more hard-working people who love this iconic theatre and the programs it offers to the community. Together, we put the shine on Starlight!
What is one piece of advice that you would give for a long, happy career?
I always give this piece of advice to every college student, intern and new hire I encounter – "When you finish your work, ask for more!" That phrase really means a lot of things: Do your assigned work to the absolute best of your ability; watch what your supervisor and colleagues are working on and ask if you can help; find a solution to a problem that your boss didn't even know existed; never sit idle! Those individuals who speak up, take risks and embrace their chances to learn on the job are the ones who get noticed, respected and, most often, promoted.
Any other words of wisdom you'd like to share?
Be kind and helpful to everyone you meet. During my Starlight years, I found my most meaningful moments came when I helped to fulfill special requests from our guests. Whether it was helping to orchestrate a surprise marriage proposal backstage, redecorating a gathering space for our volunteers or working with the Dream Factory to let a specially abled child meet the cast of The Wizard of Oz, I went home very, very happy on those nights. 
What are your plans for retirement?
When we get beyond COVID-19, my husband and I hope to travel the world – a little bit at a time. We have five young grandchildren that we will spend more quality time with. I LOVE dogs and plan to volunteer to help furry friends find their new homes. I want to go back to school, too – I now realize that the geography and art history classes I never fit in my college schedule are truly of interest to me now, so I'm going to sign up as soon as I don't have to do it all online!
Will we see you back at Starlight soon?
You will definitely see me at Starlight! Like everyone who has now navigated this pandemic, I CANNOT WAIT to enjoy live entertainment under the stars at Starlight (and lots of other places, too)! If my Starlight colleague Bill Waugh could book another James Taylor concert date soon, that would be the ultimate retirement gift for me.
Any "Starlight Secrets" you can share?
I think a few of our community engagement programs are among Starlight's best-kept secrets – and we don't want them to be! I'd love everyone's help in telling their friends, neighbors, acquaintances about our outstanding PAID Bob Rohlf Internships for college students, our Vincent Legacy Scholarship program for middle school students of color, our FREE community tickets for nonprofit organizations and so much more. Do me the retirement favor of going to www.kcstarlight.com/engage to learn enough to help share the good news of these programs!
Congrats on your retirement, Barb, and thank you for your hard work and dedication to Starlight!