Q&A with Bess Wallerstein Huff – Starlight's New VP of Marketing and Sales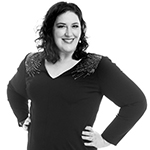 Starlight is excited to welcome its new Vice President of Marketing and Sales to the team. Wallerstein Huff brings nearly 20 years of experience in the nonprofit performing arts industry and we're thrilled for her to lead Starlight's marketing and sales team in its next chapter. Learn more about Starlight's newest VP!
What attracted you to this position at Starlight?
Starlight Theatre is an iconic, historical venue that has been a cornerstone of performing arts in Kansas City. I have fond memories of attending Broadway shows and seeing concerts under the stars - some of my most favorite live arts experiences have been at Starlight! Now is an exciting time for the organization as new innovative events such as Van Gogh Alive and the indoor series have expanded Starlight's programming initiatives. There is an apparent focus on community collaboration and I love an organization that is willing to try new things. Plus, I know there's more exciting announcements coming, and I'm thrilled to be a part of an institution that has such deep roots in the community and is looking towards building new live arts experiences.
What do you look forward to most about joining the Starlight team?
I'm most excited about collaborating with my colleagues. Everyone I've been on staff at Starlight has been so welcoming, talented and obviously cares deeply for the organization. I admire these qualities and am honored to be a part of the team. I am also a Broadway fan, and I look forward to the amazing Broadway season coming this summer!
As Starlight's new VP of Marketing & Sales, what do you envision for the future of Starlight? 
More. More collaborations, more shows, more education and outreach programs and more opportunities for the community to experience accessible live entertainment for all ages.
What do you consider your top three accomplishments professionally and/or personally (to date!)?
I've been really fortunate to continue to work in the performing arts industry in Kansas City.  I feel that working in theatre for nearly 20 years in the city that I call home is by far one of my top accomplishments. Also, being a part of the grand opening team of the Kauffman Center for the Performing Arts, and more significantly creating and building programs over the past decade was extremely rewarding. It was a once in a lifetime opportunity to be an influential part of the early phase of the Kauffman Center's development, and I am proud of the work that was done in bringing local, national and international live arts experiences to audiences for over 10 years. Finally, I'm most proud that I've had tremendous support as an arts entrepreneur in Kansas City.
Recently, I founded a new company - Show Delivered - that was created as a response to the pandemic. During the shut-down live arts venues, I worked to support local performers by connecting artists to audiences in driveways, cul-de-sacs and lawns all over the metro delivering performances to audiences from Olathe, KS to Oak Grove, MO. It was a positive way to keep artists working and we successfully delivered over 50 performances to audiences in our community in just 6 short months.
When you're not working, what are you up to?
I'm spending time with my 3.5 year old son, Jarvis and husband Chris going to the park or roaring like dinosaurs around our kitchen island. I'm thrilled that my son has an active imagination and enjoys imaginative play - so I'm soaking up that magic right now. In addition, I collect mid-century decor, so in my spare time I like to visit thrift stores, estate sales and vintage shops to discover my next favorite find.
What are your favorites?
-          Broadway show? Sweeney Todd
-          Music? Old soul music - Ray Charles, Aretha Franklin, Sam + Dave, James Brown…
-          Food? Katz' Deli's pastrami reuben or Russ + Daughters Grava Lox on a sesame bagel with cream cheese, thin sliced red onion and capers.  Basically, the food of New York's Lower East Side.
-          TV Show? Slings & Arrows is a great Canadian television series that centers around running a theater - it's delightful, poignant, funny, and heart breaking in all the best ways.
-          Theatre experience? The Edinburgh Fringe Festival. I performed in a production when I was in high school, and experiencing that festival changed everything I knew about live arts experiences. There were performances done in every nook and cranny of the city, and it was magical to be a part of a global theatre community.
Welcome to the team, Bess! We're excited to have you!