Q&A with Cindy Jeffries – Starlight's Retired VP of Marketing & Sales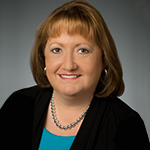 What was your best memory working at Starlight?
I will take with me so many special memories of Starlight. I think some of my very best include the first time I brought each of my daughters to a Broadway show and watched their faces as they took it all in. They were so young, but were bitten by the theatre bug and wanted to come back for every show. Each one of them also had the opportunity to perform in a Broadway show produced by Starlight and watching them experience auditions, rigorous rehearsals, costume fittings, and the nerves associated with performing in front of thousands of patrons was unforgettable for all of us.
I also have many memories of the amazing shows and performers we've had here, feeling pride in all the improvements we've made and new programs launched over the years, and making friends with many patrons of this majestic place. We've seen many exciting times and changes here in my 18 years. I recall being the very last person left in the old building in 2006 as we prepared to move down the hill into our brand new building. It was early June, we were swamped getting ready to open for the season, and I was stuck on one more call before gathering my computer and last items and carrying them out to my car to move. I literally walked in, plugged in the computer and kept on going that day.
Why do you think Starlight is special to Kansas City?
Starlight is so uniquely Kansas City, with this this gorgeous theatre sitting outside in the heart of Swope Park, inviting all to gather here under the stars. Everyone has a story about it, a special memory. It's the home of so many firsts: first dates, proposals, first concerts, first Broadway show. It was my introduction to Broadway as a little girl coming with my parents. I'll never forget it.
What will you miss most about working at Starlight?
First and foremost, the people. Starlight has an incredibly dedicated staff of talented, kind people. But I'll also miss the magic of show nights when the excitement is mounting around a show opening. Every year our first night of the season has a certain magic to it when it all comes alive.
What is one piece of advice that you would give for a long, happy career?
Love what you do, and if you don't, find another job. I've been so fortunate to have always loved what I do for the last forty years. Give it your all in terms of effort, enthusiasm and energy, and you will be fulfilled beyond your expectations. Be willing to take on new things, don't worry about "whose job it is." You'll grow and learn far more that way.
What are your plans for retirement?
I will finally have time to get back in shape, complete many needed home projects, and volunteer more – maybe at Starlight! I'll also spend more quality time with my daughters, friends and family and hopefully travel more when Covid cooperates. 
Will we see you back at Starlight soon?
Absolutely. I have had season tickets since the mid-90s, and you will see me in my regular seats on Tuesday nights!
Any "Starlight Secrets" you can share?
Ooh, I have some good stories, but probably shouldn't share!
Congrats on your retirement, Cindy! We appreciate your many years of devotion to Starlight.