Raise Our Voices – Telling Stories with Brittany and Terrace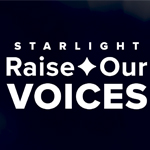 Starlight is proud to share another season of Raise Our Voices, a series that highlights the voices and experiences of artists from diverse backgrounds in our community. With the theme "I Am…," artists and artistic advisors dove in to creating works for season three of the series. The first performance is a spoken word piece by Brittany Evans and Terrace Wyatt, Jr. The pair worked with artistic advisor Kristy Thomas to create their original piece. 
"Spoken word begins as a conversation among artists. We knew the Starlight prompt 'I am…' and we sat and discussed what all that could mean for them as individuals as well as being a representation of Black young rising stars," Thomas said.  
Since both Brittany and Terrace are poets, Thomas assigned them to each write their own work. After some editing, she assigned solo and unison lines and finalized the script, with the most important message of the performance being Black Excellence.  
"With a few tweaks it was done, and FIRE," Thomas said.  
For Terrace, the idea behind the piece is that the audience sees two young Black artists who are more than the color of their skin.  
"We could be doctors, psychiatrists, novelists, travelers, filmmakers, stockbrokers, etc. We're proud of who we are and never ashamed of our history because it's motivation to find our freedom," he said. 
Terrace said the message of the piece says more than Black Lives Matter. 
"We're saying We Matter as young, gifted, future Black idols that'll inspire little ones to not be afraid to aim for their dreams even if the obstacles ahead are designed to break them." 
Brittany said her artistic statement for the piece is Black girl and Black boy joy.  
"I want youth to understand, appreciate, and know our history and all those who came before us," Brittany said. "I want them to step into the power of their voice and dare to be heard. I want Black people to unapologetically aspire to be whatever it is that they choose to be and know that nothing can stop you from achieving your wildest dreams."  
Performance, music, and theatre are special to her because they give a voice and power to our stories. 
"Your story can heal and free others. We can spread love through music and theater, which is what we need most in this world. I love being moved by theatre to start having those uncomfortable conversations. It most of all brings people together to create something beautiful and make the world a better place," she said. 
Growing up in Kansas City, Terrace's first performing arts experiences were through acting classes at The Coterie and Starlight. As a high schooler, he was a Starlight Star of Tomorrow and made his Starlight debut in Footloose his sophomore year. 
Since graduating in 2020 with a B.F.A. in Theatre at William Jewell College, he's been "booked and blessed," working full time on stage while working on his craft as a playwright and an entrepreneur. 
Terrace would like to start his own entertainment studios in Kansas City as an empire for artists of all genders and ethnicity as a safe space to build your crafts and be shared nationwide. 
After graduating from Spelman College in 2020, Brittany started teaching with the Black Repertory Theater as a teaching artist at Ruskin High School in Grandview. She taught middle schoolers through Dramatime KC and, since she minored in mathematics, she teaches algebra as a substitute at Crossroads Prep Academy High School. 
She loves to perform—whether that's singing, dancing, roller skating, or karaoke. She takes pride in her family's legacy through Alpha Kappa Alpha Sorority Incorporated and teaching like her grandfather. Brittany is passionate about education and seeks to make change by taking action to address inequality in pay, education, and housing, all the while giving back and volunteering in her community.  
She plans to continue performing on the stage and will appear in a couple of local productions as Beneatha in A Raisin in The Sun, March 11-26 at The White Theatre at the J, and as Cousin in Built By Blood at Paseo Baptist Church on February 26.  
We're excited to showcase Brittany and Terrace on our stage and look forward to seeing them on many other stages, too!