Raise Our Voices: Emma Jacobson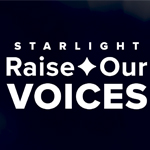 In the second season of Starlight's video performance series Raise Our Voices, Starlight assembled an Artistic Advisory Committee comprised of community artists and art educators, who then search and select artists to collaborate with. The pairs work together to decide on the material, concepts, messaging and technique for their performance.
For the season two premiere, Artistic Advisor Michael Grayman-Parkhurst told us, "I was looking for a young Jewish singer or musical theatre performer who was fluent in Hebrew here in Kansas City, and a mutual friend recommended Emma to me. We immediately connected!" Together, the pair choose the song "Shir LaShalom" to perform in Hebrew, emphasizing that it expresses a yearning for peace and calls on others to strive for peace, love and justice. "Shir LaShalom" was first performed in 1969 during the War of Attrition between Israel and Egypt and became a popular anthem for the Israeli peace movement.
"As a Jewish performer with proficiency in Hebrew, I was extremely excited for the opportunity," Emma said. "This song encapsulates everything that I feel in terms of peace and justice, and truly was the perfect response to the recent fear and Anti-Semitism that the Jewish and Israeli community has faced."
Michael said that Emma completely immersed herself in the message and meaning of the piece. The song states that "The purest of prayers will not bring us back," and we must take a stand towards the sunshine and make a difference.
"This message resonates very deeply for me, and I hope that it resonates similarly for many others," Emma said.
Emma, an Overland Park native, has been performing locally since she was eight years old. Now a senior in high school, she hopes to pursue a degree in Musical Theatre Performance after graduation, with a minor in Feminism/Gender and Women's Studies or Jewish Studies. Regardless of where she ends up, she plans to continue to make art—whether it be theatrical or musical, or framed in social justice or Judaism.
"I believe that theatre and performance are so beautiful in the aspect of telling stories," Emma said. "There is a sense of universality with stepping into others' shoes that I love so much. As performers, it teaches us growth, empathy and compassion, even with the simplest stories."
Michael serves as Artistic Director and Co-Founder of Spinning Tree Theatre in Kansas City, and loves that performance and theatre brings people together to create something thought-provoking and essential. He admits that the arts is a tough business, but a wonderful one. He advises young artists and activists to find ways to express themselves and to find people to collaborate with. He's especially excited to see what Emma does next.
"Emma Jacobson is a wonderful person, kind, talented and smart," Michael said of his mentee. "I am very excited to see what she will do next."