Raise Our Voices – Seth Irving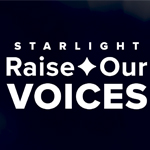 This month, Starlight's Raise Our Voices video showcases the work of Seth Irving, who brings together vocals, poetry, and choreographed roller skating. Seth was chosen by Artistic Advisor Christopher Barksdale-Burns to bring his performance to Starlight audiences.
"Seth is a kind and caring individual, who wants to see everyone uplifted and living their best life," Christopher said. "He wants to be a force of change within the community that pushes us all to be better as people and make a better world around us."
Seth sees that adversity presents an opportunity, and artistic expressions give light and hope to the world. His goal is to raise awareness about the message of Martin Luther King, Jr., and to share his vision about peaceful protest and demonstrations of non-violence.
"I hope that this message finds its home in everyone small and great," Seth said. "[Performance] gives light, even hope to the world. Our artistic expressions exemplify the matters of the heart; family matters; social matters. If the world is going to be changed for the better, it will happen through avenues such as this."
Seth's father taught him and his brother to roller skate when they were in grade school, and they soon started traveling the country performing on skates in competitions, parades, talent shows and even in movies. Seth's father started Skate Masters USA, a skate club that grew to have chapters in St. Louis, Atlanta, North Carolina and more. Moving forward, Seth plans to pair skating with his poetry more often.
Seth credits his father for being a big influence in his life who demonstrated the value of hard work and what it means to be a servant in your community. Growing up in a Christian home, Seth is very involved in his church today. Seth is a published author of two books, "Coming to The Cross," and "At The Cross," and he's currently working on a third book, "Love Trials." Christopher was inspired by Seth when he gave a presentation at their church. Christopher shared that Seth had a great rapport and message for the youth of the congregation.
"The arts are so important because it allows you to dream about the bigger possibilities in life and the greater possibilities within you and within our society," Christopher said. "It gives you insight into a type of thinking that allows you to feel empathy, sadness, love, joy and sometimes rage. An artist is always looking to make oneself and the world around them more beautiful!"
Thank you, Seth, for sharing your powerful words and multi-faceted performance with Starlight!