Save the Date for Starlight's 35th Annual Benefit Gala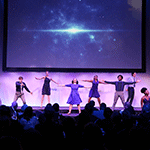 After a successful summer bringing quality concerts and Broadway shows to Kansas City, the season will conclude with Starlight's 35th Annual Benefit Gala – 'It Starts with Starlight' on Saturday, October 1.  
The black-tie event brings together hundreds of local, civic, and corporate community leaders to celebrate the arts in our community. Each year, the funds raised at Starlight's benefit gala allow Starlight to engage 30,000 local residents through community engagement programming, bring world-class entertainment year-round to 300,000+ patrons, and sustain this historic cultural landmark for generations to come. 
The evening begins with cocktails in the Shirley Busch Helzberg Garden of the Stars, a seated dinner on Starlight's Jeannette and Jerome Cohen Community Stage, and live entertainment. Guests are invited to a post-event celebration at the Applause Club with drinks and dancing. 
Community philanthropists Cathy and Rick Baier are chairing this year's benefit gala.  The night will feature longtime Starlight supporter Bob Bernstein being honored with the Star Award, and featured talent from Starlight's community engagement programs and professional Kansas City performers.  
Benefactor levels begin at $375, and sponsorship levels start at $1,500. For the first time, sponsors at the 10k+ level receive four 2023 Broadway season ticket packages. A complete list of benefits can be found here.  
To ensure inclusion in all event printed materials, please confirm your pledges by September 2.   
Please get in touch with Erin Olm-Shipman at (816) 997-1133 or erin.olm-shipman@kcstarlight.com or visit kcstarlight.com/gala to pledge your support and to see a full list of sponsorship opportunities.