Season Two of Raise Our Voices Set to Premiere in December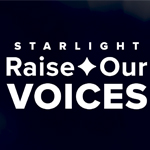 In 2020, with Starlight's stage dark and a call for social justice rising across the nation, a new Starlight performance series, Raise Our Voices, was born. Season one featured ten students, each with a connection to at least one of Starlight's community engagement programs, performing a student-selected piece. In December, season two of Raise Our Voices will premiere on Starlight's social media pages @kcstarlight.
Raise Our Voices has grown in its new season, with a mission to amplify social awareness by providing opportunities for artists from diverse backgrounds to share their perspectives with viewers. Earlier this year, Starlight assembled an Artistic Advisory Committee comprised of community artists and art educators, who then search and select artists to collaborate with. Together, each Artistic Advisor and Featured Performer pair decide on the concept, technique and messaging for their performance before rehearsing and filming at Starlight.
"I am truly honored to be a part of such an important mission and work with such talented artists," Caroline Gibel, Starlight's Director of Programming, said. "It is my hope that this amazing work will inspire our audiences to have further conversations about the themes mentioned in the performance videos."
This season, Raise Our Voices will feature six Artistic Advisor and Performing Artist pairs who will present a variety of performances to the audience—including some original works. The Artistic Advisory Committee chose the theme "Celebrating Me" to inspire positive performances while still educating on a specific social issue.
Starlight is committed to using its platform to share diverse voices and acknowledges the urgency for the theatre community to inspire action through the power of art. Raise Our Voices is just one way to create a pathway for artists' voices to be amplified.
Financial assistance for this project has been provided by the Missouri Arts Council, a state agency.