Shine On! Another Successful Annual Benefit Gala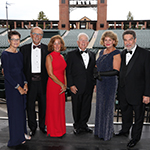 Thank you to everyone who attended and donated to Starlight's 34th Annual Benefit Gala. On Saturday, October 2, hundreds of Kansas Citians came together to celebrate the arts, our vibrant creative community and a shared appreciation of a beloved cultural landmark.
Chaired by Kelly and Joe Privitera, the event raised more than $500,000 thanks to the generosity of Starlight's donors and patrons. As Starlight's largest fundraiser, the Annual Benefit Gala impacts thousands of people each year by funding accessible world-class productions, need-based performing arts scholarships, free interactive theatre programs for children in hospitals and shelters, and much more. While revenue from ticket sales provides some of Starlight's income, the historic venue relies on charitable contributions to support the tradition of Starlight for years to come!
Dressed in their formal attire, Gala attendees gathered in the Jeannette and Jerome Cohen Community Stage House for pre-show cocktails, dinner, performances and the evening's program. All performing artists that made of this year's Gala Ensemble were current and former participants in Starlight's Community Engagement programs and, through a mix of filmed and live performances, set the energy throughout the evening. During the program, the prestigious Star Award was presented to longtime Starlight supporter Russ Welsh, and the third-ever Lifetime Achievement Award was presented to Bob Rohlf, former Starlight President and Executive Producer. Celebrations continued during the after party with live music by The Crossroad Sound and dancing in the Applause Club.
All in all, it was a wonderful evening at Starlight Theatre with valued supporters and guests.
Starlight's 35th Annual Benefit Gala will take place Saturday, October 1, 2022, and will be chaired by Cathy and Rick Baier. For more information, contact Erin Olm-Shipman at erin.olm-shipman@kcstarlight.com.