Six More Chances to See a Concert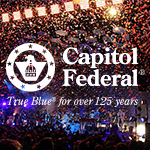 The summer may be winding down, but Starlight Theatre's 2017 Capitol Federal Concert Series is still going strong. There are six more chances to see a concert under the stars this season.
Foreigner and Cheap Trick with Jason Bonham's Led Zeppelin Experience
Tuesday, Aug. 15 at 7 p.m.
One of the most popular rock bands in the world with 10 multi-platinum albums, 16 Top-30 hits and album sales of 75 million, Foreigner has captivated audiences with classics since 1976. Now, more than 40 years after its founding, Foreigner still performs to sold-out audiences, introducing new fans to memorable favorites like "Juke Box Hero," "Feels Like the First Time," "Urgent" and many more.
Cheap Trick joins Foreigner on tour with their timeless classic rock sound. Cheap Trick has sold more than 20 million records, performed more than 5,000 times and was inducted into the Rock and Roll Hall of Fame in 2016.
---
Idina Menzel
Wednesday, Aug. 16 at 8 p.m.
Tony Award winner Idina Menzel's diverse career spans stage, film, television and movies. Since earning her first Tony nomination in 1996 for her portrayal of Maureen in Rent, Menzel has gained fame and fans worldwide for lead roles in Wicked, If/Then and for voicing Elsa in Disney's 2013 hit Frozen. Her recording career includes Still I Can't Be Still (1998), idina (2006), I Stand (2008) and a holiday album Holiday Wishes (2014).
---
The remainder of the Starlight 2017 concert lineup features:
Matchbox Twenty & Counting Crows
Wednesday, Sept. 27 at 6:45 p.m.
The xx
Tuesday, Oct. 3 at 8 p.m.
Willie Nelson & Family
Wednesday, Oct. 4 at 6:30 p.m.
Alison Krauss and David Gray
Sunday, Oct. 8 at 7 p.m.
Click to purchase tickets to Starlight concerts.