Staff Highlight: Lorenzo, Spontaneous Traveler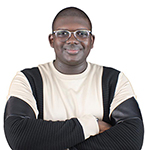 It's not just the people on the stage who make Starlight special. It takes a crew of people backstage and in other parts of the organization to make all the performances, programs, and events an experience for our guests to enjoy.
One area that people may not be as familiar with is our Community Engagement team. They are the ones who work with middle and high school students to help them achieve their dreams of performing on a stage. They work with community groups to provide free tickets to make live theatre accessible for all audiences. They oversee the internship program for college students and the Raise Our Voices program to amplify social awareness for artists from diverse backgrounds, as well as many other mission-driven responsibilities,.
Today, we're highlighting a member of the Community Engagement team. Lorenzo joined Starlight in 2022 as the Community Engagement Coordinator. He shared a little bit about his job and about himself. Be sure to scroll to see the world's cutest puppy.
What is your title and what do you do?
As the Community Engagement Coordinator, I am responsible for connecting with the Kansas City community to provide opportunities people who may have barriers that prevent them from experiencing live theatre.
My day consists of interacting with the community at various events in the Kansas City area, processing fundraising & community tickets, scheduling venue tours, coordinating our Just Imagine, Theatre for Young Audiences, & Internship programs.
What's the best part of your job?
I enjoy meeting new people at community events that Starlight has a presence at and promoting all the great things Starlight has to offer to this great community.
What is the favorite concert you've attended?
Maverick City Music & Kirk Franklin – This concert was literally a ride! There were surprise guest including, Jonathan McReynolds, David & Tamela Mann and so many others. If I could sum up the concert it was the mix of oldie but goodie songs from Kirk Franklin and new songs from the album "Kingdom" by Maverick City.
What's your favorite musical or theatre experience?
Tarzan the Musical because it really put you in the middle of the scenes, as the actors were literally swinging over your head. The music, composed by Phil Collins, was fantastic.
What is the last book you read or what is your favorite book?
The last book I read is Goodbye, Yesterday! By Cindy Trimm. It is about saying goodbye to what is holding you back in life getting you to the point of being all you can be. This book was a practical step by step guide on how to get from where you are to where you want to be.
My favorite book is Don't Drop the Mic: The Power of Your Words Can Change the World by T.D. Jakes – This was my favorite because from start to finish this book has literally reshaped my thinking on how to stay poised and positioned to "handle" the mic or opportunity when it comes! There are many times where people will have an opportunity to be a part of something, but they can ruin their chance of having another opportunity if they do too much or do more than what is asked of them especially when speaking in front of a group of people.
My motto has always been "Do what is asked of you and sit down, don't try to make yourself the star of the moment as opportunities will come when it's the right time for your moment."
Do you have any hobbies?
I would say my hobbies are Disney World visits, spending money, spontaneous travel, and collecting memorabilia from Toy Story.
Do you have any pets?
I have a Mini Goldendoodle named Brayden.

Brayden the Mini Goldendoodle