Starlight Goes Red for #RedAlertRESTART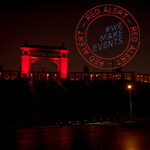 On Tuesday, September 1 Starlight joined more than 2,000 landmarks, buildings and other iconic structures across the country in lighting red for the #RedAlertRESTART. The nationwide event raised awareness on the effects of the coronavirus pandemic on the live entertainment industry. It also encouraged a call to action for Congress to vote for the RESTART Act, which would provide relief funding and necessary legislation to protect all small businesses affected.
From Madison Square Garden in New York City to the Rocky Statue in Philadelphia, to Capital Records and the Tom Moffatt Waikiki Shell in Honolulu, structures in more than 75 cities in 40 states participated in September 1's event. Starlight's iconic towers in Swope Park illuminated red in solidarity thanks to the work of Starlight's dedicated production team over the previous weekend.
Because live events are rooted in large group gatherings, venues were one of the first industries to be completely shut down when the coronavirus pandemic began. The live event industry in North America directly employs more than 12 million people and includes hundreds of thousands of businesses with a combined economic impact of more than $1 trillion USD. Starlight alone will lose more than $4 million without its 2020 summer season.
Your advocacy matters. Encourage Congress to pass the RESTART Act. For more information, visit WeMakeEvents.org.