Starlight Hosts Swope Park Community Town Hall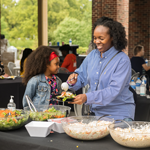 Starlight welcomed around 100 residents from the Center for Neighborhoods and the Swope Park area for dinner, a show, and an important community conversation before the Tuesday, August 16 performance of Sister Act. 
For several months leading up to the event, Starlight visited with representatives from numerous neighborhood associations, schools, social service agencies, health facilities, and community leaders within the Swope Park area, motivated by the desire to: 
Raise awareness of Starlight's nonprofit status, programming, and Community Engagement initiatives

 

Position Starlight as an organization that Swope Park residents are proud to champion

 

Better embody Starlight's desired role as a community asset for all Kansas Citians

 

Increase mental and emotional wellness for local residents through greater access to high-quality arts experiences

 

Follow through on Starlight's responsibility to embed inclusion, diversity, equity, and accessibility in all areas of the organization

 

Solicit direct feedback from individuals who live and/or work in the immediate areas surrounding Starlight. 

 
During the months of February and March, Starlight conducted a survey to formalize this community feedback. Read a full survey report.
Over a delicious barbecue dinner, Dina Newman (Director of Center for Neighborhoods), Alex Jones (Vice President of Community Engagement at Starlight), and Georgia Brown (President of the Foxtown West Neighborhood Association) presented the survey findings and potential next steps for Starlight, which include:
Preserving relationships with the community
Continued work to enhance ticket affordability
Communicating our Starlight's performance schedule to neighbors
Welcoming programming feedback
Raising awareness of Community Engagement programs among neighboring residents.
Guests were invited to provide their reactions to the survey findings, and also provide share their own feedback on how Starlight can better serve as a community resource.
"Great to see a creative organization and long-standing KC institution take neighborhood and community engagement seriously with mindfulness, respect, and intentionality," Dr. Jacob Wagner, Faculty Director and Co-founder of the UMKC Center for Neighborhoods, said. "With more partners like this, our neighborhoods will only continue to prosper and grow from the inside out. Thank you, Starlight!"
If you have additional ideas regarding future programming at Starlight or if you are interested in providing other feedback, contact us at education@kcstarlight.com.