Starlight Stars Receive Leadership Scholarships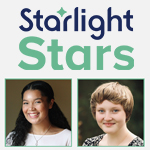 A wrap party via Zoom on Monday, December 21, concluded the 2020 season for the Starlight Stars and Starlight Stars of Tomorrow performance troupes. Along with reflecting on the season and sharing favorite memories, a portion of the evening included awarding two $500 scholarships from Starlight and the programs' donors.
Katy Sheehan, a sophomore at Park Hill South High School, and Breana Smith, a sophomore at Truman High School, received this year's scholarships based upon the leadership, commitment and enthusiasm they brought to the Starlight Stars.
Katy joined the Starlight Stars of Tomorrow in winter 2018 and then the Starlight Stars in summer 2019. Breana also joined the Starlight Stars in summer 2019, and both have continued annually since. They also have been among the youth performers featured in Starlight galas and community holiday performances.
Starlight community engagement coordinator Katie McKernan has worked with both students since the beginning of their association with Starlight and has seen tremendous growth, especially with the shift to a virtual platform this season.
"Katy's work ethic was remarkable from day one," McKernan said. "She always comes to rehearsals and performances prepared and with a positive attitude. It's clear she takes this program seriously and will always take on opportunities to grow as a performer. Having a student in the troupe who sets this example for others has been invaluable."
McKernan also noted that Smith brings joy and passion to every situation. "Working with Breana is always an absolute delight. Her eagerness to learn and grow is admirable, and it is clear how much she truly loves performing. That happiness is infectious, and you can see it radiate throughout the entire troupe. It is truly inspiring."
The annual scholarships are generously underwritten by the Howard & Rosalyn Jacobson Donor Advisory Fund of the Jewish Community Foundation of Greater Kansas City.
Audition information for the 2021 Starlight Stars will be available on our website in late January.
Visit kcstarlight.com/engage for full details.