Starlight's Blue Star Awards Winners Compete in the Jimmy Awards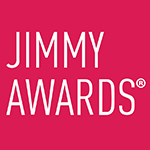 It's time for the 2021 Jimmy Awards! This year, two winners from Starlight's Blue Star Awards will represent the Kansas City region and compete nationally in the 12th annual Jimmy Awards. These exceptional performers are Justin Cooley from Olathe East High School, Starlight's Outstanding Actor in a Lead Role, and Ava Wolesky from Liberty North High School, Starlight's Outstanding Actress in a Lead Role.
These community students will participate in online coaching, rehearsals and activities. They will also have a chance to compete for the Jimmy Awards for Best Performance by an Actress and Best Performance by an Actor, as well as other awards and scholarships.
"Starlight is thrilled that Justin and Ava are representing Kansas City at this year's Jimmy Awards," said Starlight's Vice President of Community Engagement Alex Jones. "These two young artists are extremely talented and eager to learn, and we will be cheering them on as they participate in this once-in-a-lifetime training opportunity."
The 12th annual Jimmy Awards will be presented virtually by the Broadway League on Thursday, July 15, to celebrate the best of high school musical talent. Students will be recognized for individual artistry in vocal, dance and acting performance, underlining the importance of theatre arts education in schools. Broadway, film and television star Corbin Bleu will host.
Starlight's Blue Star Awards took place on May 20 in a live ceremony on the Starlight stage. The 19th annual Blue Star Awards granted more than $10,000 in scholarships – the most ever awarded in the program – and recognized talented local students in six competitive categories related to performance and production.
To learn more about the upcoming Jimmy Awards, visit jimmyawards.com. For more information about Starlight's annual Blue Star Awards, visit kcstarlight.com/bluestarawards.