Starry Night at Starlight, Cinderella, Broadway Cruise & Rachel Zegler is Snow White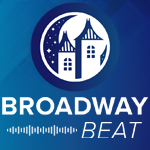 On this week's episode, Young Friends of Starlight prepares for Starry Night at Starlight, "Cinderella" comes to the screens in a new movie musical, the Broadway Cruise prepares to set sail next April and Rachel Zegler is announced as Snow White in Disney's new live-action movie.
Young Friends of Starlight (YFS) Hosts Starry Night at Starlight
Prepare to "get on your feet" for the return of Starlight's annual community fundraiser, Starry Night at Starlight, Saturday, September 11. Formerly known as After Hours at the Towers, this year's fundraiser will be bigger and better than ever, highlighting an inaugural class of All-Stars—20 of Kansas City's most dynamic charitable movers and shakers. Tickets to Starry Night at Starlight include tickets to the Saturday evening performance of On Your Feet!, a musical based on the life and music of Gloria Estefan. The event features a pre-show cocktail hour with food truck fare and a post-show dance party with live music from Lost Wax. Funds raised will benefit Starlight's Bob Rohlf Internship program. To learn more about Starry Night at Starlight, visit kcstarlight.com/support.
"Cinderella" Comes to the Screens in a New Movie Musical
A classic tale comes to the screens with the new movie version of "Cinderella!" This new musical film, set to be released on Amazon Prime in late 2021, will follow the story of Cinderella as she navigates a modern fairytale. She will do so with the help of friends such as her devoted mice and Fab G, her non-binary fairy godparent. Director Kay Cannon has announced that the story will feature a "vocal and active" Cinderella whose story is relatable and empowering. "Cinderella" will feature a star-studded cast including Camila Cabello, Billy Porter, Missy Elliott, James Corden, John Mulaney and many more. The musical movie includes contemporary covers of pop songs as well as new original songs by Camila Cabello and Idina Menzel.
The Broadway Cruise Sets Sail in April 2022
It's never too early to plan a vacation! Set sail on the Broadway Cruise April 9-14 in 2022! This Broadway-lover's dream features five days of non-stop Broadway programming on the Norwegian Gem. Taking off from New York City, the Broadway Cruise will commence with a kick-off show in New York Harbor with Tony Award winner Alan Cumming. Then, the Broadway Cruise continues with a journey to the experience's final destination: Bermuda. Along the way, guests are treated to performances by a host of stars including Laura Benanti, Sierra Boggess, Lena Hall, Jeremy Jordan, Norm Lewis and Taylor Louderman. The trip additionally features a private show in Norfolk, Virginia, with Kristin Chenoweth. Bon voyage!
Rachel Zegler Named Disney's Live-Action Snow White
Rachel Zegler, who will star in the 2021 Steven Spielberg take on "West Side Story," will soon join the Disney Princess family, playing Snow White in Disney's upcoming live-action film, "Snow White and the Seven Dwarfs." This reimagined adaptation of the Disney classic from 1937 is planned to be released in 2022 and will be brought to life by director Marc Webb. Before she is seen on the movie screens as Snow White, Rachel Zegler will make her film debut with the role of Maria in "West Side Story,'' which will be released December 10, 2021.