Starry Night at Starlight Raises $100,000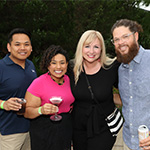 For the second year in a row, Starlight's Starry Night fundraiser raised $100,00 for Starlight's Bob Rohlf Internships program. Held Saturday, June 11, Starry Night once again featured a group of All-Stars, a group of Kansas City's most dynamic and charitable movers and shakers, who led the charge on fundraising. We are so grateful for their support in enriching and expanding charitable donations to Starlight Theatre. 
Writer, artist, business strategist, and philosopher of creative, adventurous living, Becky Blades served as this year's Honorary All-Star, and Gretchen Fitzgerald and Ashley Hutchinson co-chaired the event.  
With 350 people in attendance, the '60s-themed Starry Night at Starlight featured cocktails, food trucks, a live performance from The Crossroad Sound, and tickets to that night's performance of Hairspray.  
Thank you to all of our All-Stars for supporting Starlight in providing hands-on, real-world experience to college students through the Bob Rohlf Internships program. This year's top three All-Stars in fundraising are: 
Monica Curls - $12,158
Tracy Musolf - $11,271
Nancy Phelps - $8,896
2022 All-Stars 
Melanie Bakarich, Baron Contracting  
Nathan Benjamin and Margaret Perkins-McGuinness, Burns & McDonnell/Kansas City Public Library 
Adam and Kirstin Bormann, Deloitte/H&R Block 
Candice Brooks, Bluford Healthcare Leadership Institute 
Sean and Kelly Burrell, University of Kansas Health System/Foley Equipment  
Monica Curls, Terracon 
Denise Dibben, VMLY&R 
Grant Gooding, Proof Positioning  
Libby Marden, Polsinelli  
Mike Mitchell, Unite US  
Tracy Musolf, Lockton  
Nancy Phelps, JE Dunn Construction 
Calvin Ricks, H&R Block 
Jackie Rodriguez, Kansas City, Kansas Public Schools  
For more information on Starry Night and how to become involved, click here.