Taylor Chats with Chita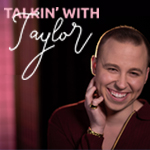 On our final episode of Talkin' With Taylor, Taylor talks with the Broadway legend, Chita Rivera. Find out what it was like to play Starlight in the '60s, how outdoor theatres have changed throughout the years, and what's so special about performing at this historic venue.
Chita Rivera is an accomplished actress, singer and dancer has a trifecta of credits on the Starlight stage – Bye Bye Birdie in 1962 and again in 1980, as well as the 2001 U.S. premiere tour of Casper. Over her more than five-decade Broadway career, Rivera has won Tony Awards for Best Actress in a Musical for The Rink (1984) and Kiss of the Spider Woman (1993) and, most recently, was recognized with the 2018 Tony Special Award for Lifetime Achievement.
Special thanks to our friends at JCCC Carlsen Center in Overland Park for allowing us to film this week's episode of Talkin' With Taylor when Chita & Friends played at their beautiful theatre earlier this year.