The One Where Taylor Talks FRIENDS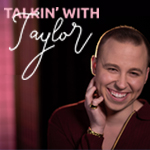 On this week's episode of Talkin' With Taylor, Taylor sits down with Tyler Fromson, a Lee's Summit native who plays Ross in the national tour of Friends! The Musical Parody. Find out how Tyler characterizes the iconic sitcom character he plays in the show and what he's looking forward to most while being back in his home town.
Friends! The Musical Parody, not only keeps you laughing, but tugs at the heart strings drawing audiences into stories we know and love. Will Rachel and Ross get together or won't they? Will Monica ever find love? Will Joey have an acting career? You'll laugh! You'll cry! You'll Unagi! Friends! The Musical Parody plays Starlight Indoors through Sunday, April 14.